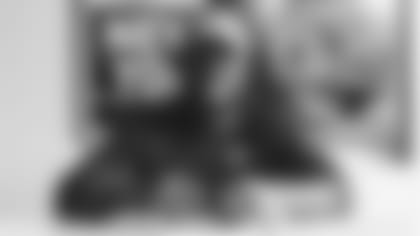 Even after an offseason that included trading for four-time NFL MVP Aaron Rodgers, the Jets are continuing to stir the free-agency pot with the addition of four-time Pro Bowl RB Dalvin Cook.
"Obviously very excited to add a really good football player to this team," HC Robert Saleh said. "He adds another dynamic to this group that I think anybody would be excited about."
Cook, who visited the Green & White at the end of July, signed his contract Wednesday, but won't practice for at least a week because he's expecting the birth of his first child. Once he acclimates himself to his new teammates and offense, the Jets will have dealer's choice how to attack defenses.
"It's a problem," defensive coordinator Jeff Ulbrich said. "Typically, when you study an offense, they have some strengths whether it's passing game or running game. Not very often do teams in the NFL have both and I really believe offensively, we're developing that – the ability to be explosive in the passing game, the ability to be explosive in the running game. A lot of different weapons, a lot of guys you have to pay attention to. From a defensive perspective, it's an absolute nightmare."
Saleh added of Cook, who ran for 86 yards and 1 touchdown for the Vikings against the Jets last season: "He's not a trick back either. You can turn around and hand him the ball and he can run downhill. He's done it for a long time. I look at it like our D-line, you can never have enough. Let them rotate, be fresh, get downhill and wear people out."
The Vikings released Cook in early June coming off a season where the Florida State product drafted in the second round in 2017, ran for 1,173 yards, sixth in the NFL, and 8 touchdowns.
After six seasons as the workhorse in Minnesota, Cook could serve as a sous chef in the Jets backfield that returned Breece Hall Tuesday and includes Michael Carter and Zonovan Knight, as well as rookie Israel Abanikanda, who's flashed in the preseason. It's a good problem to have, but Joe Douglas, Saleh & Co. will have a tough decision to make on Aug. 29, cutdown day.
"It's nuts," Carter said of the talent in the RBs room. "I can't believe I'm in a room like this. It's cool though because however things play out, you can't really control that. I was told by Coach [Saleh] that this doesn't change anything for me, but it might. Nobody has the perfect formula for this deal. That's why all I can do is grind and let the chips fall where they may. But the room we have right now, it's nuts. You can't get this on Madden."
Offensive coordinator Nathaniel Hackett told reporters the best offense he's been a part of during his 15 years coaching in the NFL was the 2020 Packers. That unit featured three running backs – Aaron Jones, Jamaal Williams and A.J. Dillon. They combined for 1,851 yards and 13 touchdowns and averaged 5.1 yards per carry.
Green Bay finished top 10 in nearly every offensive category and led the league in red-zone efficiency (80%), time of possession (32:28) and points per game (31.8). Aaron Rodgers threw for 4,299 yards and led the league with 48 touchdowns (5 interceptions) while completing an NFL-high 70.7% of his passes. His 121.5 rating and 9.6 yards per attempt also led the league. Rodgers was named MVP.
"I've always said the best friend of a quarterback is the run game," Hackett said. "It does matter if you're Aaron Rodgers or anybody. If you can run the football, it's going to open up a lot down the field for him."