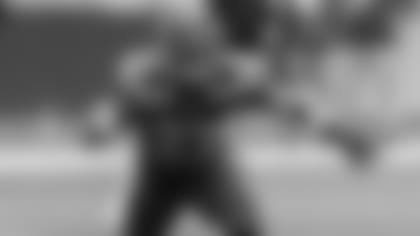 The Jets play the Seahawks every four years but will line up against a familiar face Sunday in Seattle: All-Pro S Jamal Adams, who the Jets traded to the Hawks in July.
In exchange for Adams and a 2022 fourth-round pick, the Jets and General Manager Joe Douglas received two first-round picks (2021, '22), a third-round pick in 2021 and S Bradley McDougald. This season, Adams leads the Seahawks with 7.5 sacks to go with 58 tackles, 8 TFLs, 13 QB hits and 1 forced fumble.
"He's done a good job especially in their blitz packages," Head Coach Adam Gase said. "On first and second down, he's a definite nightmare for anybody he's going against. Even when he's not pressuring, his instincts of pressuring against the run or getting involved in zone drops when it's play-action pass. Third down, he's tough to go against obviously. Everybody here has watched it for multiple years. He takes advantage of matchups when he gets matched up on tight ends and running backs. They can't block him. It makes it really difficult for a quarterback to hold onto the ball for a long time."
Speaking on the trade, Gase said: "I think both sides got what they wanted. At the end of the day, I think it benefited both sides, too."
QB Sam Darnold said lining up against Adams in training camp for two summers will help him on Sunday, but added the offense will have its hands full.
"Obviously, Jamal presents a challenge for everyone," he said. "For our tight ends, our receivers, our line, myself, our running backs. He's a really, really good player. A physical player and super smart as well. So, we've got our hands full there and we're excited to obviously not just face him but face a really good Seattle defense."
C Connor McGovern, who helps identify coverages and pressures, has experience lining up against Adams even though they never took the field as teammates. With the Broncos, McGovern played against Adams and the Jets in 2017 and '18. McGovern also played against the Chargers and S Derwin James, who has a similar skillset to Adams.
"It's something you got used to just from the true under defenses that were run a little bit ago always had in-box safeties," McGovern said. "They didn't blitz as much as Jamal does, but you're used to identifying them and keeping your eyes on the safeties for protections and stuff. Obviously it's a little bit different when they're actually blitzing as opposed to just spots. Definitely a guy you look for and keep an eye out. It's kind of been the cool thing to do in the league right now, so it's something I'm pretty used to."
One player Adams won't line up against, but used to line up with is fellow S Marcus Maye. They were the Green & White's first two picks in 2017.
"It'll be interesting," Maye said. "Obviously we've been keeping in contact with each other all year. It'll be fun seeing him out there running around and making plays and stuff like that."
Even though they talk throughout the season, Maye said the lines of communication have been cut this week as the two friends will turn into foes late on Sunday afternoon.
"I'm pretty sure we all want [the win] just as bad as he does," he said. "It's coming from both sides."