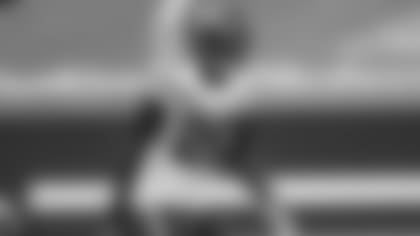 The Jets know they have a tough test facing QB Patrick Mahomes on Sunday at Kansas City. He has a number of achievements on his résumé, including the fastest player to throw for 4,000 yards and 40 touchdowns (13 games), 7,500 passing yards (24 games) and 10,000 yards (34 games). He won the NFL MVP award his first year, in 2018, as a full-time starter and the Super Bowl MVP last season.
"I'm just speaking from my limited time in the NFL, I've never seen a guy this good at quarterback," Head Coach Adam Gase said. "It's different because the two guys I grew up in this profession that were the top two guys were [Tom] Brady and [Peyton] Manning. They're different style quarterbacks -- true pocket passers, not guys that can move around and cause issues like that. … [Mahomes] has everything you can possibly imagine. He's smart, phenomenal. He's dialed into what they're doing, he knows his players, he's a great leader. Nothing but positives to say about the guy."
Mahomes has thrown for 1,899 yards (65.7% completion), 16 TDs and 1 INT this season and will face an ascendent Jets defense that ranks in the top six, over the past three weeks, in the NFL in opposing third-down conversion and opposing red-zone touchdown percentage. Against the Bills in Week 7, the group kept Buffalo out of the end zone and to 3 of 11 (27%) on third down. The Chiefs, however, average 31 points per game.
"It'll be a big challenge," S Marcus Maye said. "[Mahomes] is a great quarterback, he does a lot of great things. He can make all the throws, so I just have to be prepared for when they attack deep. Just have to be on my Ps and Qs."
He added: "We have to go into the week feeling good, feeling confident. That's how we approach every week. I know I approach every game like that. It's a tough challenge. A lot of weapons, great coaching staff and everything like that. We just have to be prepared."
Up front, the Jets defensive line will focus on keeping Mahomes in the pocket. He's thrown for 447 yards -- the most in the NFL -- and 4 TDs outside of the tackle box this season, according to Next Gen Stats. Since 2018, he has the most passing yards when given more than 4 seconds to throw.
"Obviously he's very good in the pocket, but when he can extend plays and get outside of the pocket and force the DBs to cover those fast receivers even longer, it becomes even more of a problem," DL Henry Anderson said. "We just have to contain him, keep him in the pocket, get pressure on him and make his life uncomfortable back there."
Mahomes is surrounded by a number of speedy WRs, from Tyreek Hill and Mecole Hardman, to the sure-handed TE Travis Kelce, who leads the team with 40 catches and 501 yards. Gase said that defenses have recently allowed the Chiefs to run the ball -- rookie RB Clyde Edwards-Helaire is No. 2 in the NFL with 551 yards -- and throw a lot of underneath routes while trying to preventpreventing the big plays.
"Everybody is just trying to take the air out of the ball," Gase said. "They're not trying to make it a track meet, basically everybody is trying to make them drive the entire length of the field, eat up clock and shorten up the game. If you make it a track meet with these guys, you're asking for trouble."