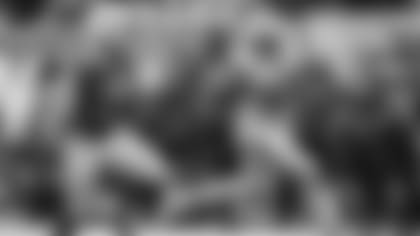 Fast starts have been hard to come by for the New York Jets. Takeaways have not. But the Green & White combined the two in Sunday's 42-34 victory over the Colts, scoring on veteran cornerback Morris Claiborne's first career INT return for a touchdown on the game's second play from scrimmage and totaling four takeaways that led to 20 points as the Green & White moved to 3-3.
"They were huge because the defense was very spotty otherwise and we had some breakdowns here and there," said head coach Todd Bowles after his team yielded 428 yards in the win.
Rewarded for this strong play to start the 2018 season, Claiborne cashed in on a bouncing ball and easily scooted in from 17 yards out just 12 seconds into the game. Colts QB Andrew Luck and RB Marlon Mack clearly weren't on the same page and a Mack mishandle was then batted around by safety Jamal Adams before eventually finding its way to Claiborne.
"Any time you can get a takeaway and get a takeaway and put points on the board, it's big for your team," said Claiborne, who has a team-leading nine pass defenses.
Midway through the second stanza, Adams got in on the Jets' second takeaway. He dislodged the ball loose from Robert Turbin and outside linebacker Jordan Jenkins recovered for the home team inside Colts territory. That set up a Sam Darnold rope to Terrelle Pryor and would start a 20-point run.
"I know myself, I sucked today," said Adams, who was disappointed with a few Luck completions on his watch. "But to get four turnovers in a game, your odds of winning go up. That definitely helped us come out victorious."
Two plays following the Pryor touchdown, ILB Avery Williamson intercepted Luck and his subsequent 36-yard return set the Jets up at the Indianapolis 22. Claiborne had the assist on the second pick, getting his hands on Luck's pass over the middle intended for wideout Ryan Grant. Despite settling for Jason Myers' 48-yard field goal, the Jets had 17 points in the first half off their three takeaways.
"We were practicing it all week, go underneath, see the underneath routes and look high," Williamson said of his first interception as a Jet. "I didn't see anything coming, so I just kept running to the ball and I just got the grab. Just running to the ball and good things happen when you're running to the ball."
Conversely, the Jets held to the Colts to six points on their two takeaways in the opening 30 minutes. The defense bent quite a bit Sunday, but they consistently changed the tenor of the game. After Luck got the visitors back within striking range, ILB Darron Lee's fourth-quarter theft effectively ended festivities.
"We needed a play out there," Lee said. "We talked about it on the sideline right before we went out there, that this was a time we needed to make a play and put the foot on their throat. We went out and did that."
"Takeaways solve a lot of problems," Bowles said. "Obviously there are a lot of things we have to fix, but takeaways isn't one of them. We just have to continue to work at it."
Entering Week 6, the Jets were tied for second in the NFL with 11 takeaways. The Green & White will enter Week 7 in sole possession of that second spot with 15, just one behind the Browns.
"We work on it every single day at practice," Lee said. "We make it a huge emphasis. Each position, we challenge each other to get a takeaway today. Keep practicing and it will show up in a game. Now it's becoming habit and we just want to continue to do that with consistency."