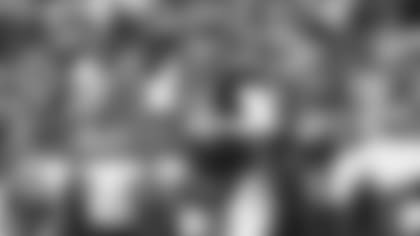 The Jets' season was a tale of two halves: a 1-7 start, a 6-2 finish; 7-9 over all. Only seven teams since 1978 have started 1-7 and finished 7-9 or better.
"In the beginning of the season, I thought we were inconsistent," QB Sam Darnold said. "I think that's really some of the reason why we lost games at times. I thought I played inconsistent as well. Toward the back half of the season I thought I played better. I didn't turn the ball over as much, but there's still room to be more consistent. As a whole, I felt like the back half of the season as an offense we really felt more comfortable and played more consistent."
Darnold began the season with a 1-4 record as a starter and finished 6-2. He threw for 1,077 yards, 6 TD, 9 INT in Weeks 1, 6-9 and had a 70.5 passer rating in his first five games. In Weeks 10-17, Darnold amassed 1,947 yards, 13 TD and 4 INT. His 93.3 passer rating was 10th in the NFL in that span.
"Big picture, I thought I grew and I felt like I experienced good experiences for the most part," Darnold said. "Obviously, I learned from some of the bad games that I've played, bad plays that I had during the year. From that aspect I thought I grew a ton. Again, did the season work out or end the way we all hoped it would? No. We would have liked to have a winning record and be going to the playoffs, but obviously there is a lot of room to grow. We also learned from our mistakes. I thought we did that as an offense and I thought I did that personally."
Darnold said wins are more significant than statistics. Darnold, however, later pointed to completion percentage and turnovers as important numbers. He completed 61.9% of his passes, which is an improvement over last year (57.7%). He threw 13 interceptions compared to 15 last season, but lost one more fumble (3). Darnold has room to grow but was dealt an unfortunate hand. The injury bug took a bite out of the Jets, especially along the offensive line, not to mention Darnold's bout of mono. The Jets started 11 different linemen and had nine different line combinations. At least two players started at each position across the OL and, in some cases, three (LT, LG and RG).
"No one said it was going to be easy," Darnold said. "For me, I just handled it the best way I knew how — just put my head down and keep working. At the same time, there are certain things you can't control, so I just worried about making sure I kept the main thing the main thing; working hard coming here every single day and putting in the work that I needed to. Whether it was on the O-line, receivers, tight ends, running backs, every single guy stepped up for us this year in a spot. They did amazing. They did a great job stepping in and the next man up mentality for us this year really paid off."
Darnold will work with Jordan Palmer again in the offseason, but first will undergo tests on his sprained left thumb. He doesn't believe surgery is required. He already knows how he'd like to improve physically, such as keeping two hands on the ball in the pocket, but Darnold's immediate focus is watching the tape.
"We have a ton of time so I am going to look at every game for sure and see how I can get better," he said. "You just break it down in so many different ways: throwing to the right, throwing to the left, throwing to the middle, different types of play actions. There are so many different ways you can break it down and see where my weaknesses were and work on those."