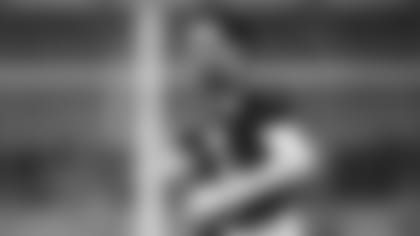 From the Jets' former home run hitter to the current, Wesley Walker expects a big season from Robby Anderson in 2019.
Back in April at the Green & White's uniform launch event, Anderson said head coach Adam Gase "will bring the greatness" out of him by expanding both his playbook and role in the offense after being labeled a one-trick pony after three years.
"As a receiver, one of the most frustrating things is when you know you have the talent to do things and sometimes coaches don't see what you can do," Walker said at United Way's annual Gridiron Gala. "As a coach, you have to figure out what those guys can do and fit it into your offense, but more importantly, you have to know what they can do in order to bring that out. That's the big question. And one of the biggest factors is health, staying healthy during the regular season.
"I believe Robby Anderson has the ability [to be successful], I love Quincy (Enunwa) and with the addition of Coach Gase, it should be awesome. But again, it's coaching and whether they can get them to where they need to be and I hope that's going to happen this year."
The Sam Darnold-Quincy Enunwa connection led the offense in the first four games this past season, but Darnold and Anderson caught fire late. In Weeks 14-16, Anderson, who officially signed his one-year RFA tender last week, led the Green & White with 20 receptions on 31 targets for 312 yards and three touchdowns. For the season, the former undrafted free agent paced the Green & White with 752 yards and six touchdowns on 50 receptions, 10 of which went for 20-plus yards and two for over 40.
Labeled a deep threat in his first three seasons, Anderson has reeled in 37 passes for 20-or-more yards and nine of at least 40, but Walker believes Anderson's speed will be more prevalent in 2019 and open up the offense for the talent around him.
"I think the biggest thing is you know he can run, but you need somebody who can really change that field and develop other guys," Walker said. "If you have a guy that can really go downfield and get it and establish that deep threat, that's a threat all the time. It's going to open up the whole offense for other people, for Gase and the running game."
At the end of the day, the weight of the offense will be placed on the shoulders of the Jets' second-year signal-caller and Walker believes Darnold's key to growth will be his ability to stay calm in the pocket under pressure.
"The pure throwers know how to deal with that and not panic," he said. "He has the ability to scramble. I've seen him do some things. If you can do it one time, you can do it several times. It's experience, just getting the time in, understanding the offense. He's still young, so that's going to have to be developed. He's learning another system, that's not easy to do, so it's still going to take a couple years. He has the ability to flourish, but we're going to see. I'm hoping for the best."