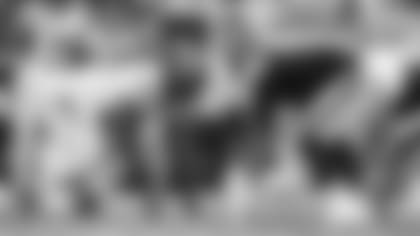 The Jets will kick off the 2023 preseason on Thursday night at 8 p.m. against the Cleveland Browns at the Tom Benson Hall of Fame Stadium in Canton, Ohio. Below are ways to watch, listen and stream the game and Hall of Fame festivities.
Watch the Game on TV
NBC | 8 p.m. ET
Broadcasters: Mike Tirico (play-by-play), Cris Collinsworth (analyst) & Melissa Stark (sideline)
Stream on Peacock or NFL+
Jets fans anywhere in the United States can watch the game Live on Peacock (subscribe) or NFL+. Click here to subscribe.
Jets fans in Europe can watch every 2023 preseason game live on NFL Game Pass.
Listen to the Game
New York Metro Area: WEPN-FM, ESPN New York 98.7 and online.
Broadcasters: Bob Wischusen (Play-by-Play) and Marty Lyons (Analyst).
Pre-and Postgame: Gregg Buttle and Dan Graca
Jets Radio Network
Ocean, NJ: WCHR - 105.7 FM
Rochester, NY: WHTK - 107.3 FM/1280 AM
Albany, NY: WTMM - 104.5 FM
National Radio: Westwood One
Broadcasters: Scott Graham (play-by-play) and James Lofton (analyst)
2023 Enshrinement
Jets legends Darrelle Revis and Joe Klecko are part of this year's Hall of Fame Class. The Pro Football Hall of Fame Class of 2023 Enshrinement will take place at Tom Benson Hall of Fame Stadium in Canton, beginning at noon ET on Saturday, Aug. 5. Watch the Enshrinement on NFL Network and ESPN.