Wayne Chrebet felt strongly both ways about Sunday's Super Bowl.
"It's nice to see someone new in the Falcons, so I'd like to see them win it," the Jets' iconic wide receiver said at Jets House at SPiN New York last week before the Patriots' win over the Falcons in SBLI in Houston. "But there's also some guys on the Patriots I'm rooting for."
Who might that be? Why, fellow wideouts Julian Edelman and Danny Amendola, of course.
"I had dinner with them a couple of months back and we had a blast," Chrebet told me. "They were in town, and they're younger guys in the league, and if I can offer them any help or advice ... and they're fans of mine, so we got together."
Then there's another New England WR Chrebet had in his sights.
"Chris Hogan has the same agent as me, Art Weiss, so I'm rooting for the kid," Wayne said. "He's done well for himself."
Chrebet's not apologizing for his Patriots connections. "I root for players. I'm not rooting for a team," he said. "I like those guys and I like the Falcons, so may the best team win."
That team presumably was the Patriots. But the receiving corps with the greatest influence at Jets House was, not surprisingly, the green team whose uniform Chrebet wore for 11 NFL seasons. At the weekend event besides Chrebet were fellow Ring of Honor members Wesley Walker and Al Toon. And from the current team, Quincy Enunwa and Robby Anderson also made appearances.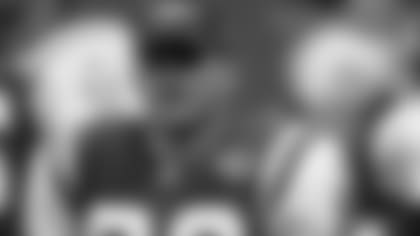 No. 80's strongest rooting interest in receivers lies with the Jets group that will be entering 2017 off a difficult season but with valuable experience under its collective belt.
"I don't know where Eric Decker's at with his injuries, but he certainly has his career ahead of him. And Brandon Marshall's a great player," Chrebet said.
"And then the young guys. Enunwa's something special. He's a physical specimen, he catches the ball in traffic, so I hope he stays around for a long time.
"Robby Anderson went to Temple and came in undrafted," said Chrebet, who famously came in as an undrafted free agent out of Hofstra and began to make his mark on Jets history in 1995. "So I like the path he took and he showed up a lot at the end of the year."
He also noted the contributions of Charone Peake and Jalin Marshall and noted that Devin Smith is coming back as well.
"I don't know what's going to happen with the vets," he said, "but the more time these young guys get, obviously the better they're going to be. They have a good future ahead of them."
Best Images of the Jets Wide Receivers and Tight Ends During the 2016 Season