2009 Week 7 - Jets at Raiders Photos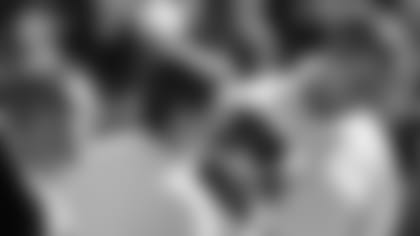 Washington stayed behind in the Oakland area along with Dr. Ken Montgomery, head of the team's medical department, and was undergoing surgery at an area hospital as the team buses departed for the Oakland airport a little after 8 p.m. ET.
Washington suffered the injury on a 6-yard run 5:41 into the game when tackled by LB Tommy Kelly and other Raiders in a pile near midfield.
"Leon's a great teammate and a great person," said Thomas Jones, who teamed with rookie Shonn Greene to lead the Jets' second Consecutive 300-yard rushing game. "Honestly, from the time he got hurt till the end of the game, every couple of plays I would think about him."
"That's crazy," said S Kerry Rhodes about losing his teammate for the foreseeable future. "I feel for him."