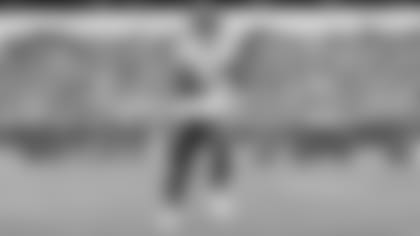 One upbeat question begged to be asked of one player in the Jets' muted locker room following Sunday's loss at Philadelphia.
Vyncint Smith, how fast are you?
"I think I'm 4.3," Smith said. Pressed to declare whether that was more a 4.39 or a 4.30, he replied, again humbly, "Not a 4.39. Low 4.3's, yessir."
Actually, Smith was clocked at 4.36 in the 40-yard dash, the fastest by far at the University of South Carolina's 2018 pro day and a time that would've tied for the sixth-fastest 40 at that year's NFL Combine.
Smith's swiftness is one reason the wide receiver has cleared several speed bumps on his way to the NFL. The latest was making an impact in his debut with the Jets, who signed him off the Texans' practice squad last month.
He did that with the offense's best play of the day, his 19-yard run from the right flanker position flying around the left side with a flip from Luke Falk for the end-around touchdown. The play call, with Falk and Ty Montgomery moving right, and 11 Eagles with them, while Le'Veon Bell went left to provide a downfield block for Smith, was outstanding. So was Smith's burst toward the left pylon with no Philadelphia defender in any position to stop him.
"They called it in the huddle and I'm getting excited a little bit," Smith recalled. "I'm thinking about where I'm supposed to line up, kind of looking at the defense, getting an overall view. Then I secure the ball, look downfield and see what I've got to do, and it's just wide open. It was pretty easy for me to just run in, so I thank everybody else for doing their jobs very well."
The play was the Jets' first wideout TD run since Chris Owusu at Miami in 2014. Needless to say, coming with 14½ minutes to play and cutting the Jets' deficit to 24-6, it was too little, too late Sunday. But small contributions like that play could help spark a struggling offense.
Smith's story is inspiring enough. Coming out of high school, he sought to be recruited by the University of South Carolina but that didn't work out so he played four productive seasons at Division II Limestone College in the Palmetto State. He then turned his pro day at USC into an invite from Houston and wound up making the final 53 and contributing to last year's Texans. This year he was a final cut, was signed to the Texans' practice squad, and from there was signed by the Jets.
What sense on this gray Philly day did the rapid young man have about his new team?
"Like Coach was saying, we're just being tested. Every team's going to be tested somehow, someway," Smith said with optimism. "I've been on teams where we've started 0-3 before and made the playoffs, and I think of this team the same way. We just have a lot of injuries, a lot of small things bothering us. But with the leadership on the team, I think we'll win some games and really become a contender."
That may sound farfetched for the Green & White, but keep in mind that Vyncint made his contributions to the 2018 Texans, who became the only NFL team since 1990 to start 0-3 and earn a playoff berth. There's no such talk for the Jets now but with expectations about Sam Darnold and others returning to action this week and players like Smith chipping in, some good things can still happen in 2019.