Earlier this week, the Jets hosted their first ever bowling classic at Bowlmor Lanes in Times Square. After Mike Vick neatly finished a spare, he told me that the Jets quarterbacks were competing against each other in everything — on and off the field. But all competitions are not the same.
Last summer, Vick and Nick Foles were battling for the No. 1 job in Philadelphia. Eagles HC Chip Kelly let things play out all the way until Aug. 20 when Vick was named the starter after an outstanding preseason. Now donning a different shade of green, Vick acknowledges he is in a very different position nine months later. Head coach Rex Ryan has consistently stressed that Geno Smith will be hard to beat out and Vick was brought in to help push the second-year pro.
"Going through the competition with Nick we knew — both of us coming in — that it was open competition and the best guy was going to win the job," Vick told reporters today. "Whoever performed well throughout OTAs and preseason, and that's just what it was. It was pretty much cut and dry. This situation is different, it's kind of unique. But even though it's not open competition, we're both competing every day and I think we both have to come perform well each and every day."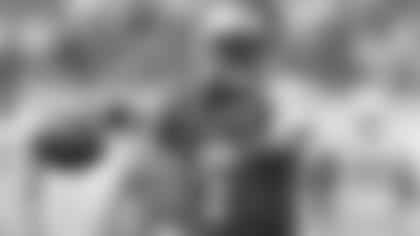 Vick, who will turn 34 on June 26, believes his presence will help Smith. He has experienced success under OC Marty Mornhinweg and will be ready when called upon.
"I'm wishing the best for Geno. I'm going to help him each and every day," he said. "I'm going to help him get better. My thing is when it's my time to go out there and play, I have to be ready when my number's called and nothing can come in between that. That's what I'm excited about. That's what I want."
While Vick will wear No. 1 in 2014, that won't be his spot on the depth chart with OTAs and training camp around the corner.
"I won't lie because deep down you always want to be a starter. You always feel like you're a starter and that's just the competitive nature in me," he said. "Hopefully, that opportunity will come again one day and I just have got to keep working for it. Nothing's easy in this league like I said before, and you've got make sure you grind out each and every day and take no days off. I haven't taken a day off in the weight room. I haven't taken a day off outside with our conditioning program, so it's all business and it's got to be that way until the last day."