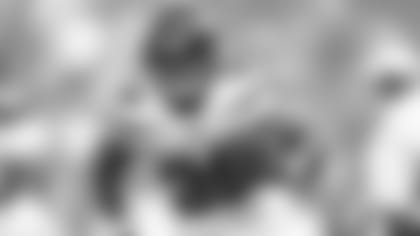 After months of patience, a 59-minute rain delay, and three-plus quarters of game action, Jets RB/WR Valentine Holmes finally made his much-anticipated NFL debut in the Jets' preseason opener against the Giants, and he didn't disappoint.
A former winger and fullback for the National Rugby League's Cronulla-Sutherland Sharks, it didn't take long for Holmes to look comfortable in his new role on the field. Starting off at a moderate pace, the 6'1", 201-pounder took a handoff from quarterback Luke Falk up the middle for a two-yard gain and followed that with another carry for a one-yard loss.
However, on the next offensive series, Holmes received a short pass from Falk and took it 14 yards for a Jets' first down.
"It's just what we do at training, I felt like I was at training out there and obviously our defense goes hard as well," said Holmes. "I'm kind of used to the playbook by now and I felt pretty comfortable out there. I wasn't nervous or anything. I was just really excited. I think we needed a first down and it felt pretty good to get it and stay on the field."
The Townsville, Queensland, Australia native kept the momentum going the next play with another shotgun pass from Falk that he ran for 11 yards, showing off his speed and racking up consecutive first downs for the Green and White. Holmes' final reception of the night came as a five-yard gain—just six yards short of the end zone—and he ended his first NFL contest with three receptions for 30 yards and three carries for six yards.
"It's surreal, you get goosebumps being in a game like this," Holmes said. "We always watch games like this on TV, so to be able to experience it next to these guys and to be able to step out on the field and play is something special. I'm really happy I'm here."
With the first preseason game in the books, Holmes will be back on the field Sunday vying for a spot on the 53-man active roster. And even though he's nearly 10,000 miles away from home and familiarity, the 24-year-old Aussie has his eyes set on each day ahead.
"It's one game down and we have a few more games to go in preseason. I'm looking forward to that and just taking it day-by-day," Holmes said. "We've got recovery and another session tomorrow. We'll work on some things tomorrow and play next week."