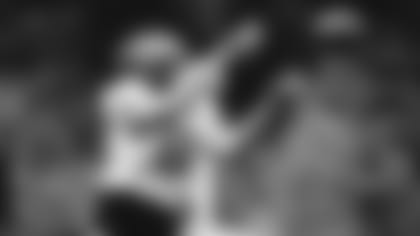 Jets tight end Tyler Kroft is locked into the reality of the 2021 season, his seventh in the NFL, but he still has time -- a little time -- to indulge in a fantasy league with a couple of his buddies from Downingtown East High School in Pennsylvania.
"I have one league with a couple of pretty good friends," Kroft told Bart Scott and Dan Graca on the season debut of "Inside the Jets." "I keep the Jets stuff pretty close to my chest. They get no inside info from me!"
Kroft (6-6, 252) is in his first season with the Green & White after being drafted by the Bengals out of Rutgers and spending four seasons with Cincinnati, then two with Buffalo before signing in free agency with the Jets in the offseason. He's a guy from the Northeast with a deep familiarity with the AFC East and the pitted rivalries among the four entrants.
On Sunday before a full house at MetLife Stadium, the first time fans will be in attendance since 2019, Kroft will get to experience his maiden Jets-Patriots rivalry game.
"We know New England will be going to come with its bag of tricks," Kroft said. "They'll give us the whole Rolodex of coverages and fronts, and they're going to put a lot on Zach's plate. We have to be locked in and our communication will have to be on-point.
"But it's cool. I had four years in Cincinnati then two in Buffalo, so I've always been in the Northeast area. Coming back to New Jersey, I love the fans and the passion. It seems familiar. It's a cool area to be in and I like being in the Northeast."
Kroft (43 plays, 66% of the snaps) and Ryan Griffin (31, 48%) stepped to the front of the Jets' tight end room when the team traded Chris Herndon to Minnesota before the start of the regular season. Trevon Wesco is also in that room, but he more often plays the role of fullback. Last week at Carolina to open the season, Kroft and Griffin combined for 6 receptions for 48 yards, collaborating with rookie QB Zach Wilson.
"Overall, I thought the team competed well," Kroft said. "Our guys are going to fight to the end every time. There's always something to hang your hat on and we have to execute better. But overall, I think it was pretty good."
After the Jets fell behind by 16-0 after the first 30 minutes, the defense stood tall in the second half allowing the Panthers only 3 points while Wilson found WR Corey Davis for a pair of TD passes. The Jets were in it until the end, proving head coach Robert Saleh's truism that most NFL games are one-score games usually decided in the fourth quarter.
"The coaches, I think, did a great job at halftime making adjustments," Kroft said. "We were cleaning up footwork and technique and I don't think they [the Panthers] did anything too crazy to throw us off. It was about communication across the board."
While Kroft and his tight end teammates may not physically have their hands and feet in two rooms -- receivers and offensive line -- the group has dual responsibilities to catch passes and block for the ground and air games. Carolina limited the Jets to 45 yards on the ground while pressuring Wilson. Now the offensive line will be without Mekhi Becton (dislocated knee cap) for 4-to-6 weeks and rookie LG Alijah Vera-Tucker is still getting acclimated to the NFL.
"We have a good veteran right side [with Greg Van Roten and now Morgan Moses, with George Fant flipping to LT]," Kroft said. "They are going to take them into the room and put the onus on themselves. There are things in the works to sort those things out. We recognize as a veteran unit that we need to take as much off Zach's plate as we can. He's a rookie quarterback and he loves the pressure, and wants to put it on himself. But we have to try and ease it as much as we can."