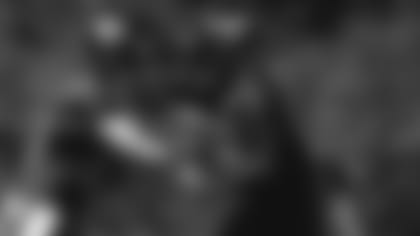 Running back or wide receiver? It's been a while since the Jets have had this particular kind of "slash" on their roster, but that's what they've got in fifth-year man Ty Montgomery.
So what position exactly is Montgomery?
"It's still pretty early," he told reporters today in his first news conference since arriving from Baltimore as an unrestricted free agent two months ago. "I'm just going day by day. I guess we'll cross that bridge when we get there."
Montgomery can still do both. As he mentioned about his résumé, he was drafted as a wideout by Green Bay in the third round of the 2015 draft after catching 172 passes over four seasons at Stanford. But the 6'0", 216-pounder also started carrying the ball his last two seasons for the Cardinal. And while he's worn No. 88 all five of his pro seasons, including this year with the Jets, he was listed as an RB for most of his 36 games with the Packers.
And he liked the kind of pigskin multitasking that the Jets were proposing when the UFA period began.
"When they reached out to my agent, we had a long conversation about it and we kind of realized what they were asking of me was actually pretty much what we were looking for," Montgomery said, "to play with a guy like Le'Veon [Bell], be behind him, do some receiving and running back stuff. And just have an understanding of how Coach Gase has used his backs in the past, used them as dual threats, used multiple backs at a time, just the reputation he has, especially with offense as well and his creativity. That's really what brought me in."
What no doubt attracted Adam Gase and his offensive staff was Montgomery's two-pronged production. In the past four seasons, he's averaged 6.10 yards/offensive touch, ninth-best among the 35 NFL players who've had at least 100 rushes and 100 receptions.
The only Jet to clear 6.0 yards/touch with 100 rushes and catches over a four-season span was RB Bruce Harper, who notched 7.3 yards/touch from 1981-84. RB Leon Washington was close at 5.6 from 2006-09.
But how difficult is it to juggle two significantly different positions in an NFL offense in 2019?
"At times it can be tough," Montgomery said. "When you're in, you've just got to know which position you're at when you're looking for the right tags in the calls.
"But it's not too bad. Having the experience at receiver that I have, being able to read coverages and understand where the receivers line up on the field, honestly, it kind of helps me as a running back. When I'm going through protections and when I'm running the ball, I'm able to see the shell, I have a better understanding of the whole defense at times. It actually kind of helps when you know one and you can transition into the other one."
Having a Stanford education also helps, not just with playing two positions but with fielding questions from reporters that might contain an unintentional booby trap. Such as when Montgomery was asked to compare Jets second-year QB Sam Darnold with the Packers' Aaron Rodgers.
"I want to try to stay away from making those kinds of comparisons," he said with a smile. "Aaron's obviously pretty special. I don't want to take anything away from either guy. Being on the field with Sam, he's also pretty special and he's got some really good talent and he throws a pretty good ball."