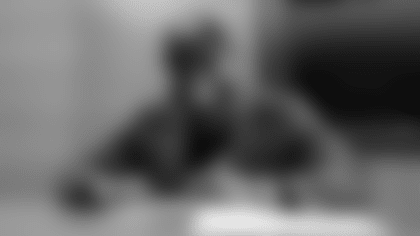 Following his most challenging season as a pro, WR/HB Ty Montgomery is set to turn the page with the Jets.
"It's a fresh start. It's a new opportunity and it's a great opportunity," said the 26-year-old Montgomery after signing a deal with his third NFL club. "I get to go out there and I speak for myself with my play. Finally. And I'm looking forward to that."
Last season, the fifth-year veteran played seven games in Green Bay but was traded to Baltimore days after he lost a fourth-quarter fumble on a return during the Packers' 29-27 loss to the LA Rams in Week 8. Combining to play 13 games with both clubs, Montgomery rushed for 188 yards and added 235 receiving yards on 25 receptions.
The 6'0", 216-pound dual threat also has return experience, averaging 22.7 yards on 35 kick returns and has a career 1,824 scrimmage yards.
"I think I can really bring something to the table to help this offense in being a guy that can go out wherever, make plays from wherever on the field, and I'm really excited about that," said Montgomery, who also added, "I can line up anywhere. I can create mismatches, I can go make plays at any given moment at any point on the field."
Montgomery chose to sign with the Jets because of the pieces on offense, particularly fellow running back Le'Veon Bell, and he also praised the creativity of head coach Adam Gase.
"The Jets were a right fit for me because of what this offense has," he said. "Coach Adam Gase has a reputation of what he can do with an offense and the players in his offense. Signing Le'Veon Bell was huge and having an offense built around a back like that really suits me. I think it complements my game well."
When asked about Gase in particular, Montgomery said, "I love his personality, his energy when he walks into a room. He's a funny guy, seems like a good dude and just his mindset. He loves to talk ball and overall, seems like a good guy you want on your side."
Even though Montgomery is eager to start his career in green and white with a blank slate, he's reunited with a familiar face in former Ravens linebacker C.J. Mosley.
"Leadership in all aspects," said Montgomery when asked what kind of player Mosley is. "Just his knowledge of the game, his playmaking ability. Everything he brings to the table is what you want on your defense."