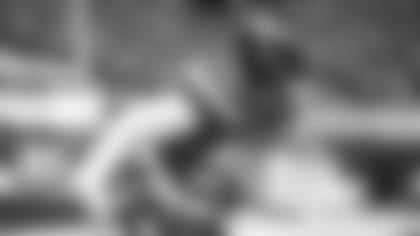 Jets RB Ty Johnson already knew that he was likely to see more of the ball in Sunday's season finale at New England because of the chest/lung injury that has ended Frank Gore's season (he was placed on IR on Wednesday).
What Johnson did not know until Wednesday morning was that rookie RB La'Mical Perine had tested positive for the coronavirus, which means he will also miss the game against the Patriots.
"Perine is on COVID-19 IR," Head Coach Adam Gase said. "We're still doing contract tracing, but he [Perine] has tested positive.
Perine, who only returned to action last week after spending time on IR with a high ankle sprain, has been the only Jets player to test positive for the virus in this most unusual NFL season, The Jets almost made it through the season unscathed, in terms of infection.
"We found out right before practice and got tested again," Johnson, 23, said. "We're just going to roll with the punches. Get tested, have a good day at practice and get in a good day of work."
With the absence of Gore and now Perine, only Johnson and Josh Adams will likely be available unless the Jets make a late-season move or elevate Pete Guerriero from the practice squad.
"It's definitely an opportunity, but an opportunity for right now," Johnson said. "Anything can happen going into '21. It's an opportunity and a blessing to finish out the season and possibly have a bigger workload. We'll see. I still have to prepare the same and be the same person I am day-in and day-out."
Claimed by the Jets in October after being waived by the Lions, Johnson had a breakout game against the Raiders earlier this month when he had 22 carries for 104 yards and a TD. Overall in eight games, he has carried the ball 43 times for 209 yards. In the Jets' Week 15 win over the Rams, Johnson had 39 yards on 6 receptions including an 18-yard scoring grab.
It is likely, however, that Johnson will be long remembered for his bit part in last Sunday's trick play that led to Jamison Crowder's TD pass to Braxton Berrios against the Browns.
Asked if he had any worries about his part in the play (he took an inside handoff from QB Sam Darnold, then pitched the ball to Crowder as he came from the left flank to the right sideline), Johnson admitted that he did indeed.
"It wasn't too scary, it's not like I had to make a catch, run with the ball then throw it," he said. "I was just scared about pushback on the line and getting tripped up. But it ended up perfectly with 6 points."
Like so many of his Jets teammates, much of the talk this week has been about Gore missing the final game of the season and the veteran running back's impact on the team as he joined rarefied company (with Emmitt Smith and Walter Payton) as one of three NFL players to reach 16,000 yards rushing.
"I'm a young guy and he's a veteran, but I could ask him any question and he would say 'you got it, don't overthink it,' " Johnson said. "Obviously his work ethic is amazing, how he comes in every day. He comes in every day and puts in the work, it's as simple as that. He does what a professional should do. He's the model for a professional athlete and a professional football player. He hit the 16,000 mark, one of three guys, and I get the opportunity to say I played with him in the 2020 season. It's been awesome to be around him."
He added: "It's really crazy to be honest. There have been endless running backs through the years, and only three who have done it. You have to tip your hat to Frank for sure."