Who will bring the thunder from Down Under? The Jets had a pair of rookie Australian punters — Lachlan Edwards. a seventh-round draft selection from Sam Houston State, and Tom Hackett, an undrafted free agent from Utah — at rookie minicamp and their friendly competition figures to extend well into the spring and perhaps the summer as well.
While Edwards grew up in Hastings, Victoria, Australia, Hackett called home 73.5 km (46 miles) to the northeast in Melbourne. Now some 16,631 km (10,334 miles) to the northwest in Florham Park, NJ, they are roommates on foreign soil.
"He's from just outside of Melbourne, I'm in Melbourne. We share interests, sports background, all that type of jargon," Hackett said. "We get along well, we're roommates. I told him we better get along well otherwise the next seven weeks are not going to be too fun, but we'll be fine, become best friends and away we go."
Edwards, who became the first punter drafted by the Green & White since 1987, is large in stature. The blond-haired lanky 6'4", 209-pounder, who would pass for a surfer, posted gross averages of 41.5, 44.1 and 42.3 the past three years respectively.
"I'm more of a traditional style punter," he said. "So my whole college career, punting from behind center, I think one of my strengths is my hang time, so that translates well to the NFL," he said. "But of bigger importance now is placement so that's what I'll be working on for my whole career from now on, just placement, control the ball. That's the most important thing, I think, here in the NFL. You put it on the sideline and the returners don't know where to go."
Hackett, a two-time Ray Guy award winner as the nation's top punter, has been relying on placement for as long as he has punted. The curly-brown haired 5'11", 195-pounder,, who could pass for a librarian, placed 43.8% of his career punts inside the 20 and 21% of his boots inside the 10-yard line while at Utah.
"I'm not a 6'5", 225-pound punter that GM's and the front office at NFL teams like. I'm 5'11", I blend into society pretty well," said Hackett.  "That's just how I live. I directional punt, I don't have a cannon, but I put the ball on the sideline every time and don't let a return happen. But a lot of teams are after that kind of 60-yard, 5.5-second ball that flips the field and that's not what I'm all about."
Edwards, who didn't pick up an American football until 2012, was named to the All-Australian University first team in Aussie Rules Football that same year and also played rugby in high school. While working on placement, he wants to keep the ball in the air for his coverage unit.
"All my punts are going to be at least a 4.5. If you can maintain the distance, that's what I'll try to do," he said. "I don't want to kick out [out-kick] my coverage, that's the last thing you want to do in the NFL."
Unlike Edwards, Hackett's wait on draft weekend extended beyond the seventh and final round. But the latter, who also played Australian rules football at Scotch College and says he was "sneaky" around the goals, was more than happy to sign on as an undrafted free agent with the Jets.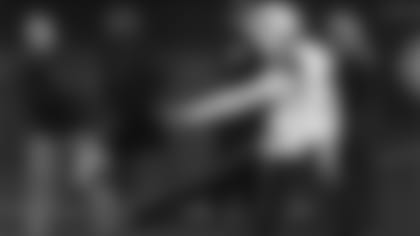 "I didn't go in expecting to win the Ray Guy and didn't go into the draft expecting to get drafted," he said. "I come out, I'm a different style punter. I'm coming into the league and I'm going to try to change the way the NFL punts the ball. It's a risk for a player personnel department, a GM, a front office, for them to pick me up in the draft and for me to not work out  —  they get shunned for it. If it happened, great, a bit extra money. But it's not about the money at the minute. Happy with undrafted free agent, just to be able to get a real chance here."
Both Aussies have a real chance. They are the only two punters on the Jets' roster as Ryan Quigley, who served as the club's punter for three years, signed a free agent deal with the Philadelphia Eagles in April.  So Edwards and Hackett will compete in the States, but the two countrymen will keep it civil.
"You don't go into something like this wanting to slice his bloody throat every morning," Hackett deadpanned.
"We're not trying to rip each other's throats out," added Edwards. "Every guy in here is in a competition, so it's the same as any other position."