For any team with 20/20 draft vision — and GM Mike Maccagnan and his college personnel team saw things at least that good last year — the 20th position overall should be a decent position from which to attack the 2016 NFL Draft.
That's where the Jets find themselves at this moment, although Maccagnan, with five draft pick trades before and during his first draft as a GM last year, could possibly put this Green & White pick in motion as well.
But unless and until that happens, here are a few observations about No. 20 in the draft in Jets and NFL history, along with a slideshow that brings together this eclectic group to show what a player taken at that modest rung two-thirds of the way down the first round just might turn into.
The Jets have held the 20th spot four times previously, but not once since 1980, and they haven't selected there in 44 years.
1965 —They selected Jackson State DE Verlon Biggs in the third round of the AFL Draft. Biggs went on to play 80 games in six seasons with the Green & White. Among his achievements were a 44-yard interception return as a rookie, a safety in the '66 season opener at Miami, two blocked field goals, a pair of two-fumble-recovery games, a sack in the '68 AFL Championship win over Oakland and a four-sack game — the first in franchise history — at Houston in 1969, the highlights of his 49 unofficial Jets sacks.
1970 — Florida DB Steve Tannen arrived in Round 1 and spent all five of his NFL seasons as No. 21 in green and white. He broke in with all 14 starts at LCB in '70, and also that year had the first of his three blocked kicks, a rejected punt that he took 41 yards for a TD at Buffalo. In '73-74 he moved to safety, and he finished his career with 12 interceptions in 61 games (37 starts).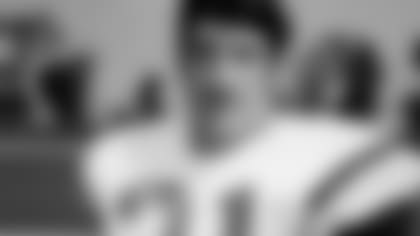 1972 — Their first first-rounder that year was WR/TE Jerome Barkum, ninth overall. But they also acquired the 20th pick from Washington, coincidentally as part of the compensation for Biggs signing as a free agent with the 'Skins in June 1971. With that year's No. 20, they selected Michigan LB Mike Taylor, who didn't last long in the league, just 22 games and five starts.
1980 — The last time the Jets held No. 20 was before the '80 draft, when they acquired it from Denver in the trade for QB Matt Robinson. Then they shipped that pick and their own No. 13 overall to San Francisco for the 49ers' second overall pick, with which they landed WR Johnny "Lam" Jones from Texas.
Other 20s who were perfect 10s over the years:
Forrest Gregg was the 20th pick of the 1956 draft by Green Bay. He played 15 NFL seasons mostly at RT, the first 14 with the Packers before finishing with the Cowboys in '71. He played in nine Pro Bowls from 1959-68 and was named All-Pro in seven of those seasons. He played in 188 consecutive regular-season games and on six NFL championship teams and three Super Bowl winners. Then once his playing career concluded, he spent 11 years as head coach with Cleveland, Cincinnati and Green Bay, coaching the Bengals into the Super Bowl after the 1981 season. Gregg was inducted into the Pro Football Hall of Fame in 1977.
Jack Youngblood was taken at 20 by the Los Angeles Rams in '71 and played all 14 of his pro seasons for the Rams, including a club record of 201 consecutive regular-season starts from '72-84. He played in seven consecutive Pro Bowls from '73-79, was named All-Pro five times, and was inducted into the Hall of Fame in 2001.
Current players who were 20th selections include Broncos Super Bowl CB Aqib Talib and Chiefs LB Tamba Hali. Other former 20th picks who became 10-year starters: LB Don Shinnick (1957), LB Maxie Baughan (1960), G Mark May (1981), T Will Wolford (1986), S Steve Atwater (a Bronco from 1989-98 and a Jet in 1999) and DT Tim Bowens (1994).
The Jets will have the 20th pick in each round this year (except for Round 6, which goes to the Texans in the Ryan Fitzpatrick trade), not rotating with any other teams from round to round. That's because they were the only 10-6 team not to reach the playoffs last year and so are not grouped with any other teams. The last time they were ungrouped and "flew solo" in a draft was in 2010, when the they were 29th in every round, their reward as the losing team in the AFC Championship Game three months earlier.