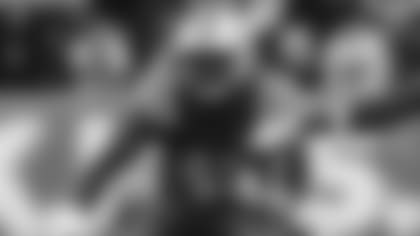 Fox game analyst Chris Spielman, an old linebacker himself, had just gotten finished saying that Minnesota LB Eddie Kendricks was one of the top cover 'backers in the game. Then Jets rookie RB Trenton Cannon blew by Kendricks, got wide open for a Sam Darnold pass, and took it from there en route to a 35-yard completion.
"Trenton is fast," Jets head coach Todd Bowles said back in August. "We understand what he has talent at, and we understand what he needs to work on as well."
A lot of that work has been on offense and it showed during the 37-17 loss to the Vikings as Cannon played in 23 plays and 73 yards from scrimmage on offense and 16 more plays and two kick coverage tackles on special teams. All those numbers were career highs.
And it all started with that first-quarter wheel route.
"It felt good, especially getting in for the first time on offense and contributing," Cannon said after the game. "Actually I did feel more comfortable after the 35-yard catch."
To put that in perspective, Cannon is one of a handful of Jets rookie backs to have a reception of at least that long. Elijah McGuire recorded a 38-yarder at New Orleans last year. Before that, we have to go back to Leon Washington with 47- and 64-yard catch-and-runs in '06. Before that, to Blair Thomas with a 55-yarder in '90.
Bowles and the Jets have been hopeful to work Cannon in on offense and returns since he arrived as a highly productive Division II back from Virginia State in the sixth round of the April draft.
The return dimension has been slow to develop, but the 5'11", 185-pounder's progress in and out of the backfield is coming at a good time. Bilal Powell was placed on Injured Reserve today with the neck injury he suffered in the second quarter against the Vikings, while Isaiah Crowell's been playing through an ankle injury and McGuire can't be activated from short-term IR until at least next week.
"I think he's a hard-working guy," Bowles said of Cannon. "He's a confident guy, and every day he gets better at something."
The something at the moment is being a contributor to the Green & White operation at midseason. And Cannon is game.
"Oh yeah, most definitely my goal is to continue to improve," he said, "and show them that I can help this offense out."