Todd Bowles will get his staff together at 5:00 p.m. today and then they'll lock the door and throw away the key. A long night is ahead for the coaching staff in addition to GM Mike Maccagnan and the team's top football personnel.
"I think it's harder every year," Bowles said today less than 24 hours before the Green & White have to reduce their roster by 25 players. "The more you get to know them and the better your team becomes, the harder the cuts come because you know you'll be cutting some good football players one way or the other. It's never easy to cut anybody, but it's part of the process and part of the business."
Up in the AirSpecifically mentioning the battles at WR, OL, DB and TE, the second-year head coach acknowledges some of the final moves will be difficult as the Jets have to trim their roster to a 53-man maximum by 4:00 p.m. Saturday.
"There are still a bunch of positions up in the air that we kind of have to meet on and go over," he said. "There are going to be some tough cuts."
Petty InjuryNot tipping his hand on whether the Green & White will keep four quarterbacks, Bowles did say QB Bryce Petty suffered a bruised shoulder Thursday night vs. the Eagles. Petty, who threw for 481 yards in preseason play with 3 TDs and 1 INT, left the game after taking a shot to his arm on a 44-yard scoring toss to rookie WR Robby Anderson.
"We're still waiting to see the recovery time and we're just going to assess him this week and see how it goes with treatment," Bowles said.
Geno No. 2During Friday's conference call, Bowles did tell a reporter that it would be fair to say that Geno Smith is the Jets' No. 2 QB. And while he would not confirm if the Green & White would keep four signal callers on the roster, he did say RT Breno Giacomini could be placed on the in-season PUP list. If Giacomini is out for the regular season opener, the Jets could opt to wait until Sunday Sep. 11 to name a starter vs. the Bengals.
"I saw good in both of them and I saw bad in both of them," Bowles said of both Brent Qvale and Ben Ijalana. "I saw some things they can work on, so we'll alternate them during the week and then we'll probably go right up to gameday if Breno can't play."
Return DecisionThe Jets have an interesting decision to make at returner as well. Jalin Marshall and Jeremy Ross got most of the game action this summer, but Bowles also mentioned explosive Chandler Worthy as a candidate as well.
"Obviously those two guys did a great job and we still have a guy that we haven't really looked at that much who can play in Chandler," he said. "We think whoever we put back there has a chance to be pretty good if we block it the right way. As long as they catch the ball and secure it, I think they have a chance. But it will be a tough decision there too."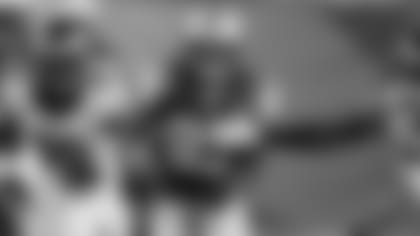 Jenkins' StatusRookie OLB Jordan Jenkins, who sat out a second straight game with a calf injury, ran with the first team for the majority of training camp. Has the Jets' third-round pick earned a starting position?
"Jordan has to be healthy to take some reps," said Bowles. "I have to see where he is, so we haven't made that decision either. We would like to get some reps in here, but he hasn't practiced in a while."
Lesson LearnedIn three-plus quarters of action vs. the Eagles, rookie Christian Hackenberg completed 11 of 31 for 54 yards and his one interception was returned 90 yards for a touchdown.
"Christian is a bright guy and he has a great football IQ, and I'm sure he'll learn from it," said Bowles.
Trade TalkOn the eve of final cut-downs, the phones are typically busy throughout the NFL. Nothing on the front burner, but the Jets are out there talking as well.
"People are calling, doing their due diligence and we're calling and doing our due diligence."