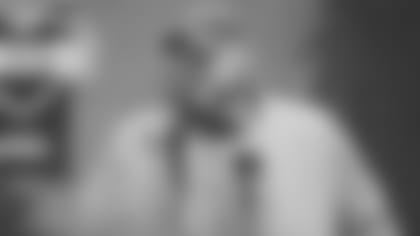 Long before Joe Douglas became general manager of the Jets, he was a student-athlete at the University of Richmond and teammate of ESPN draft analyst Todd McShay. The two have maintained a close relationship for more than two decades and McShay, a walk-on QB for the Spiders, believes Douglas will flourish in green and white.
"Joe is one the great people and I'm not just saying that because I played with him and he's a friend," McShay said at the NFL Scouting Combine in Indianapolis. "I think what the Jets are getting is a guy who grew up the right way in football under [former Ravens GM] Ozzie Newsome and Phil Savage. They taught him the way to evaluate players and what to do and how to do it. The process is so important to him.
"He's so respectful of having people that he trusts and loves and having the right guys around him. He wants to bring in the right players in terms of leadership, toughness, versatility. He knows what to look for. He's patient in the draft. He's probably not going to move up and make a splash. He's going to move back or stay put and try to find a value like Ozzie did for so many years in Baltimore."
Newsome was in charge of the Ravens' roster from 1996-2018. Douglas can start adding players in his first offseason with the Jets March 18 when free agency begins. Teams, however, can begin negotiating deals with players who have expiring contract two days prior. A handful of media members believe Douglas will take a calculated approach to free agency like Newsome and McShay believes the players will gravitate towards the Jets because of Douglas.
"He's one of the great human beings," he said. "You want to work for him, you want to win with him and he's the kind of guy who if you're a free agent, you want to be a part of what he's building with the Jets."
He added: "You can sit down and talk to him for an hour about anything besides football and have a blast, a great conversation. The second you dive into football, he can do as deep as anyone in the league. I think the fact that he's so relatable and has the right people around him is going to the reason he has a lot of success."
Douglas' supporting cast includes Assistant GM Rex Hogan, Director of Player Personnel Chad Alexander, who worked with Douglas in Baltimore, and Savage, who is the Jets' Senior Football Advisor. The Green & White have eight selections in this year's draft and four in the top-79, adding a third-round pick from the Giants in exchange for DL Leonard Williams.
"Joe and his staff do a great job," McShay said. "They grind it, they know. They'll evaluate the players, they know what they're looking for. After the first two or three rounds, they're going to find guys who can contribute on special teams, have versatility, toughness and leadership. They're going to make it very known to the organization what they're looking for and what a Jet is moving forward based on this draft. I'm confident of that."
Away from football, McShay said he has a ton of Douglas anecdotes and shared a PG-rated one before jumping on air at Lucas Oil Stadium.
"He and I competed for the worst cars at the University of Richmond, at least on our team," he said. "My car had holes in the floor. He had an [Oldsmobile] Cutlass Ciera I think. I remember he was from Mechanicsville, VA and I always used to joke with him that we'd need a mechanic one of these days because of the two horrible cars we had."