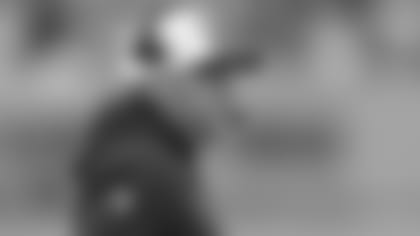 While the Jets continue their search for a veteran quarterback, HC Robert Saleh has already made several alterations to the offense's his offensive coaching staff. After hiring Nathaniel Hackett as offensive coordinator and Keith Carter as OL coach/run game coordinator, the Jets added former Titans OC Todd Downing as their passing game coordinator.
"He comes with a wealth of knowledge of quarterback play," Saleh said of Downing during a Thursday morning videoconference with reporters. "So he'll be kind of a, God rest his soul, that Knapper [Greg Knapp] role in terms of running the quarterback room and being the main voice in that regard."
Saleh, beginning his third offseason as Jets HC, hired Knapp shortly after joining the Green & White in 2021. But Knapp, one of the most well-liked and respected assistants in the NFL, tragically died thate following summer from injuries sustained when he was struck by a car while biking in California. Coaching veteran Matt Cavanaugh joined the staff as a senior offensive assistant in 2021, but Saleh elected not to have a someone in that role in 2022 because he wanted to "quiet" the QB room.
Downing will serve as the senior voice in a room that also includes QB coach Rob Calabrese. With the league year on the horizon, the Jets QB group is expected to look a lot different in 2023 with the strong possibility. The team will have a new starter and only Zach Wilson and Chris Streveler under contract when free agency commences. Downing has experienced success with a veteran quarterback who is already on the market and has multiple suitors.
"He was with [Matthew] Stafford in the early years of his career," Saleh said of Downing. "He was with Derek Carr at the early years of his career and obviously with [Ryan] Tannehill during Tannehill's resurrection, if you will."
The Jets have hosted Carr at their facility in Florham Park and team officials again regrouped with him this week in Indianapolis. When Downing was Carr's QB coach (2015-16) and OC in Oakland (2017), the talented quarterback averaged 3,806 yards passing while hitting on 62.5% of his passes with 82 TDs and 32 INTs. Most recently the offensive coordinator for the Titans in 2021-22, Downing called the plays for a unit that saw Tannehill hit on 66% of his throws and pass for 34 TDs against 20 INTs over 29 regular season games. Tannehill tied a career high with 7 rush TDs in 2021.
In Nashville, Downing worked alongside Carter for the past four seasons. He'll also reunite with Hackett as the new Jets OC had Downing as his QB coach with the Bills in 2014. In that '14 campaign, journeyman Kyle Orton had a career year with single-season bests in completion percentage (64.2%) and yards per game (251.5) and he received votes for Comeback Player of the Year.
No matter the signal-caller for the Jets, you can expect a commitment to the run game. Over his last five seasons (2017-21), Hackett's offenses have combined to rank 12th in carries, yards and rushing average. Downing and Carter were part of a staff that rode Derrick Henry in Tennessee as the Titans finished top-five in rushing three of the past five seasons and top ten in four of those campaigns.
"There's a lot of carryover from what Mike [LaFleur] had installed over the last couple of years," Saleh said of Hackett. "So, there's going to be some carryover. Philosophically and how we do things will be a little bit different. I'm not going to get too deep into that right now, but excited about him. Everywhere he's been, he's been able to build at least a top-five run game. From a play-calling standpoint, it might come off different. Not to say that Mike wasn't able to get it done, but his positivity, his aura about him, the way he goes about his business, I just think it'll be a change for the guys for sure."