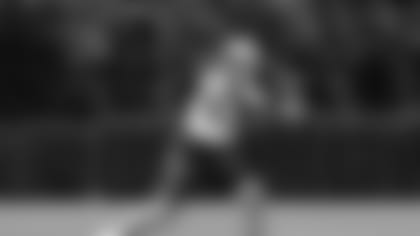 With a new draft pick, a couple of free agency pick-ups, and some returning talents, opportunity has swiftly presented itself within the Jets' tight end room. After starting TE Austin Seferian-Jenkins departed following his two-year stint with the Green & White and headed to Jacksonville, doors opened to make room for a new number one. Six doors, to be exact.
"When we come back from training camp, they're going to all be competing. We've got six guys, the most I've ever had at this position," said tight ends coach Jimmie Johnson. "We feel strongly about the position this year. A lot of young guys, I don't think I have anybody over year four. So they're young and they're hungry, and they're competing real hard."
Among the young and hungry is rugged third-year pro Eric Tomlinson who, believe it or not, is the current longest-tenured Jet at the position. Referred to by Johnson as "our best blocker of the group," Tomlinson recorded eight receptions for 121 yards and one touchdown in the 2017 season; his first official receiving stats of his career. With a solid year of official production under his belt, Tomlinson's focus is geared towards his teammates.
"I just think our tight end group right now, we're a close-knit group," Tomlinson said. "We're just looking after each other and making sure everyone does the right thing. I think it's been good."
Coming out of Clemson as a top tight end prospect in 2017, second-year "rookie" Jordan Leggett sat out his first professional season after suffering a knee injury in the preseason. With the 2018 season quickly approaching, Leggett has dialed in to the opportunity in front of him.
"For all of the tight ends, it's just a lot of space and a lot of opportunity," Leggett started. "We're out there working hard and trying to get each other better. There's a starting job out there, so we're all just out there fighting for it and working hard every day."
Although Johnson still views Leggett as a first-year pro due to the 6'5", 258-pounder sitting out last season, the sharp TE had time to take mental reps and better prepare himself by learning the playbook. But the newest rookie, Jets' fourth-round pick Chris Herndon, who increased his production each year at Miami (FL), is well aware he'll have to take his game to another level once training camp commences.
"It's going to come with a lot of work and dedication. Not just trust from my coaches, but trust from my teammates as well," said Herndon. "So I'm just going to work day by day and however it plays out, I'll be giving my heart regardless."
Questions remain, but the Jets think they have assembled a group — including veterans Neal Sterling, Bucky Hodges and Clive Walford —who could provide some encouraging answers. We will soon find out.