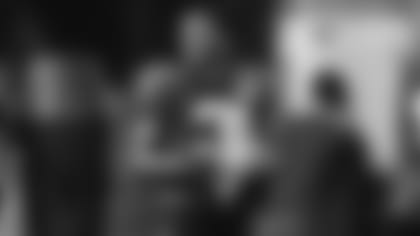 Jets CB Bless Austin joins this week's edition of The Official Jets Podcast powered by AWS. Austin discusses growing up in Queens, NY, coming back from two ACL surgeries while at Rutgers, his maturation as a player from Year 1 to Year 2 and looks ahead to Week 2 against the 49ers after a Week 1 loss to the Bills.
Podcast highlights include:
5:15 – What it's like going back home to Queens
5:48 – Growing up a Giants fan and his favorite players
7:00 – Why his player comparison as a high school QB is Ravens QB Lamar Jackson
8:46 – Trash talking in general and the back and forth with Bills QB Josh Allen
10:20 – His acting aspirations after football
13:38 – Being benched last year in Week 16 and how that's helped him become a better player
16:11 – Coming back from two knee injuries in back-to-back seasons
19:28 – Scouting report on the 49ers
For all of the Official Jets Podcast episodes, click here.