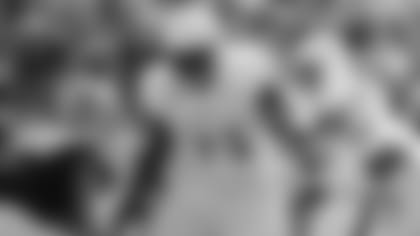 New Jets first-round pick Mekhi Becton was asked on his conference call with Jets reporters Thursday night if he'd always been a big dude or if he went through a memorable growth spurt during his formative years.
"I've always been bigger than the average kid," Becton said. "I was always standing over everybody in pictures."
He'll be standing over most everybody in the picture in Jets franchise history once he takes the field.
We detailed Mekhi's weight in our "5 Things to Know" story on the young man from the state of Virginia and the University of Louisville. In the 2018 offseason he said he was 390 but got down to 369 last season. At the Combine he checked in at 364 and he said his plans are to play at 350-355.
Let's take those lowest figures as his opening-day program weight. At 355 or even 350, Becton unofficially would be the fourth-largest Jet to suit up and play in a regular-season game and the largest O-lineman to do so. Jumbo Elliott wasn't nearly that jumbo. Dwayne "Roadgrader" White didn't possess nearly the biggest rig.
This statement comes with several caveats. NFL weights are notoriously difficult to pin down. They can change from week to week, of course, and season to season. They've been known to get fudged. And the same player can have significantly different weights when his program weight, supplied by the team, is compared to weights on independent NFL sites.
Here are the unofficial pre-Mekhi top three beefiest players and top three largest O-linemen in franchise history, by program weights (Jenkins was listed at 349 until 2010 opening day, Woody came in at 327 in 2010):
Table inside Article

| Player | Pos | Years | Ht | Wt |
| --- | --- | --- | --- | --- |
| Chester McGlockton | DT | 2003 | 6'4" | 371 |
| T.J. Barnes | DT | 2014-15 | 6'7" | 364 |
| Kris Jenkins | DT | 2008-10 | 6'4" | 360 |
Table inside Article

| Player | Pos | Years | Ht | Wt |
| --- | --- | --- | --- | --- |
| Damien Woody | T | 2008-10 | 6'3" | 335 |
| Craig Watts | G | 2016 | 6'4" | 335 |
| Austin Howard | T | 2012-13 | 6'7" | 333 |