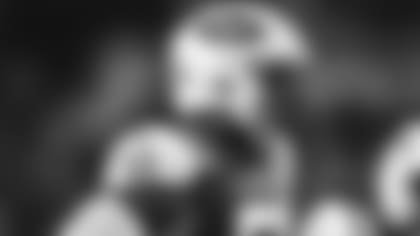 After playing 32 games for the Lions in 2015-16, Brandon Copeland will return to Detroit Monday with bad intentions.
"I love — especially that first regular season game — just the energy in the stadium whether you're the home team or the away team," said the 27-year-old outside linebacker who signed with the Green & White in March. "I love just the energy that you'll receive from the fans. I've played in Detroit, so I know that first Monday night the fans will be going crazy. I'm looking forward to going back and being a villain this time."
Copeland, a 6'3", 263-pounder in his fourth season out of Pennsylvania, could play a large role in Week 1. Veteran Josh Martin suffered a concussion in a Week 3 preseason contest against the Giants and has not practiced as of Friday. Copeland received a long look throughout the summer and figures at the very least to be a contributor in sub packages and on special teams.
Copeland is not the only Jet with extra incentive against the Lions. Fullback Lawrence Thomas, who attended Renaissance HS in Detroit before blocking for Le'Veon Bell at Michigan State, will have a rooting section at Ford Field.
"It's going to be exciting, just going back in front of my hometown," he said this week. "My mom, my dad, my family, all my high school friends and college friends. It's going to be a big deal, so me going back to Detroit is going to be amazing."
Bowles Confident in His Quarterback
Sam Darnold will make history in Detroit, becoming the youngest passer to start on opening weekend since the 1970 NFL-AFL merger in 1970. After Darnold completed 64.9 percent of his passes for 7,729 yards with 57 touchdowns and 22 interceptions as a two-year starter at USC, he hit the ground running with the Jets and earned his opportunity.
"I'm starting him. My confidence level has got to be pretty high," Bowles said Friday. "He's been playing football his whole life. We don't go by age. There's always going to be one-year guys, two-year guys and 10-year guys. It's a team going up there, so I don't worry about the confidence of the quarterback. I worry about the confidence of the team. I just go by that and I go from there."
Better Than Ever?
In his fourth season coaching the wide receivers, Karl Dorrell believes Quincy Enunwa is already at the level he was when he was last seen in regular season action. An energy player who was missed last season, Enunwa is set for the prime time stage and the Jets have limitless options with the 6'2", 225-pounder.
"He's such a versatile player that he has a lot of strengths because of who he is. He's got size, he's got strength, he's got speed," said Dorrell of the weapon who had 58 catches for 857 yards with four receiving scores in 2016.. "He has good ball skills, he can run after the catch, he's got a number of things that are really unique for him that we see that more as a versatility. We can put him everywhere."
Veteran wideout Jermaine Kearse, entering his second season with New York's AFC representative, was limited during Friday's workout. He has an abdomen injury and it's unclear if he will suit up Monday night.
If Not Maye Day
With the final injury report due Saturday, Marcus Maye (foot) did not practice Friday and his status also remains uncertain for the opener. If he can't go, either Doug Middleton or J.J. Wilcox would take his place in the lineup.
"The game has definitely slowed down for me a lot," said Middleton this week, who worked alongside Jamal Adams all spring as Maye recovered from an ankle injury. "I have been able to see different things that I haven't been able to see in the past. I don't know if that's because of working with the ones or if that's just because of another year in the league. I think it's definitely been a big transformation for me."
Whoever who pairs up with Adams will be alongside a player who appears poised to take a huge leap in Year 2.
"There is a difference in having energy and being vocal and having a thorough understanding of the defense, the calls on the defense and where everybody is at and what the offense is trying to present," said defensive backs coach Dennard Wilson of Adams.