The date is seared into the memory of every American. For the Jets Family, that fateful day will always have special significance. For the family of Mike Prior, the horrifying and deadly terrorist attack on the World Trade Center was personal. For Prior, a retired firefighter, there is a generational link to the New York City Fire Department and nearly 40 years of dedication to the Green & White -- Prior has driven the Jets' equipment truck since 1982.
"My friend's dad was the owner of the laundry service that serviced the Jets and the Mets," Prior said. "He asked if I'd be interested in driving the equipment truck. Back then it was on a 14-foot truck. Now we have 14- and 26-foot trucks. I drive to Newark Airport, get escorted out on the tarmac to load the plane."
These days, as the Jets prepare to open the 2021 NFL season at Carolina the day after the 20th anniversary of the attacks, Prior is responsible for loading some 13,000 pounds of equipment that goes with the players for a typical road game. His three sons -- all firefighters -- have helped him load and drive the truck since they were in high school. Prior is one of the longest-tenured veterans in the Jets' organization, a commitment that stretches from his home in Merrick on Long Island, to the team's former training facility on the campus of Hofstra University in Hempstead, to the Atlantic Health Jets Training Center at One Jets Drive in Florham Park, NJ.
"I started driving for Jets in 1982, at the time they were still practicing at the facility at Hofstra University," Prior said. "It was for me a 5-, 10-minute drive from home. It was more than a job. I take pride in doing all the right things with the truck. I'm a small part of the organization."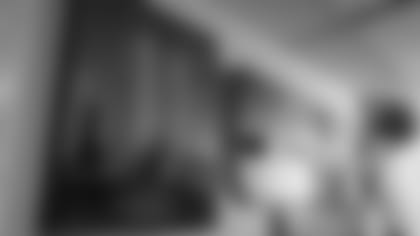 While he may have been toiling behind the scenes, the son of immigrants from Ireland who was raised in the Bronx and worked as a firefighter for 33 years -- stationed in Corona, Queens, at FDNY Engine 289/Tower Ladder 138 -- Prior became one of the Jets organization's reluctant heroes on that crisp and clear Tuesday morning in September 2001. He told about his experience in "The Driver | A Hero's 9/11 Story."
"Twenty years?" he said. "It doesn't feel like it. Time goes fast. That memory is so ingrained in me that if I hear or see something I immediately go back to 9/11. Not a day goes by that I don't think about someone I know who died on 9/11."
Among the 2,977 who died in Lower Manhattan, 412 were emergency workers and 343 were firefighters.
"I got up on that beautiful day and headed to my job as a dispatcher at a limo company," Prior said. "My wife called and I told her I had to go to work. I wanted to go to my house first, but then both towers came down. I told my wife that this was going to be a recovery effort, it's not going to be a rescue. It was hard saying goodbye [to her]. I said I probably wouldn't be able to get in touch for a of couple of days. I got to the firehouse, we went to the Shea Stadium parking lot. There were busloads of guys. We knew there was a large loss of life.
"The first time I got down there was about 9 p.m. on the night of Sept. 12. The streets were closed and I parked the fire truck in front of City Hall. We walked two blocks to the Trade Center site. There was pulverized concrete everywhere. It was the most incredible thing I ever saw. Just the lighting, the TV and movie lights lit up the area, and the cranes they were bringing in. It looked like a movie set. It didn't look real at all. I couldn't believe seeing parts of the Trade Center on its side on Church Street. The size of the pile was amazing."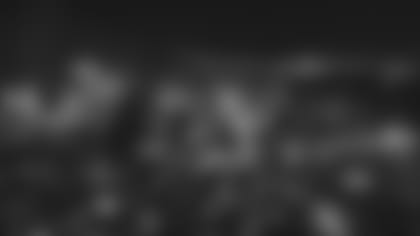 In the days after the attacks, when time seemed to stand still, Prior said that one of his fears was being the one to discover the remains of someone he knew. There were four firefighters from his Corona firehouse who lost their lives.
Shortly after the attacks, the NFL suspended play until Sept. 23. Before the return to play, Prior secured caps with "FDNY," "NYPD" and "Port Authority" emblazoned on the front that were distributed to players and staff ahead of the game against the Patriots in Foxborough, MA.
"To have football again was the first step in getting back to normalcy," Prior said. "Just to have football again and realize this is America's pastime. That Sunday I got to the game at about 8 a.m. It was really a somber place. I got as many T-shirts as I could from my firehouse and gave them to the guys who wore them during warmups. I gave a red one to Wayne] Chrebet with the [Corona Tigers on it.
"I think most of the guys knew I was a fireman. They were patting me on the back. At that moment I'm not just a truck driver, I'm part of this."
"Joe Andruzzi [a retired Pats offensive lineman] has three brothers who are firefighters and when he came running out waving American flags the crowd really got into it. It got everyone pumped, it was a great feeling. The teams stood together, like never before."
Part of Prior's legacy -- as a valued member of the Jets family for nearly four decades and as a long-time member of the FDNY -- is knowing that his three proud sons have followed in his footsteps.
"It's an amazing feeling," he said. "The pride I have as a fireman to have my kids ... it's an overwhelming sense of pride."