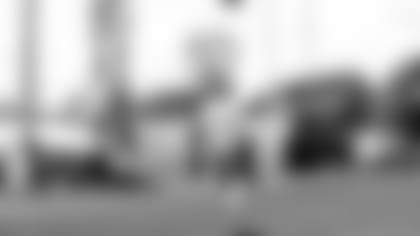 The only thing on Jets wide receiver Terrelle Pryor's mind entering training camp was the thought of returning to the game. After suffering an ankle injury early last season that eventually required surgery and left him unable to participate all spring, the 6'4", 228-pound weapon is excited to have his health back.
"This is the first time I've felt good like this in a year, since I was back in Cleveland," said Pryor, who is participating in individual drills for the Jets this summer. "I was pretty banged up last year in Washington early on, and this is the first time I actually feel pretty good about myself, about cutting and stuff, without thinking."
Limited to 20 catches, 240 receiving yards and one touchdown while with the Redskins, Pryor wasn't the same player who broke out with the Browns in 2016 with a 1,000 receiving yards. The 29-year-old suffered a right ankle ligament tear in Week 1 and attempted to play hurt for half of the season, and the days that followed weren't among his favorite.
"I'm just glad I feel this good, to tell you the truth. I don't ever want to see the days that I had like last year," said Pryor. "Just unfocused, being unfocused because of the injury. I mean it was a pretty horrible feeling and I don't wish that on any athlete."
Despite the 2017 setback, Pryor remains a talented individual with impressive athletic ability. His potential as a wide receiver shined during that 77-catch, 1,007-yard campaign in Cleveland. At that point, he had only been playing the position for two years.
After being selected in the 2011 NFL Supplemental Draft by the Oakland Raiders as a quarterback, the former Ohio State signal caller bounced around with three other teams as a QB. It wasn't until 2015 with the Browns that Pryor officially converted to receiver. Despite only being at the position for a few years, though, he believes he can be a difference maker for his new club.
"I want to be dominant here, and the only way I can do that is if I'm healthy," said Pryor. "The only way we can do that collectively as a group, and the only way the Jets can do that is, if we're all healthy."