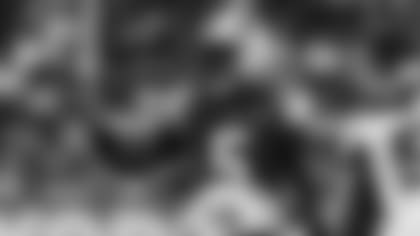 It's been a long two years, but Teddy Bridgewater is back where he belongs. Making his preseason debut with the Jets Friday night, Bridgewater was in command during his brief stretch with a sterling performance. Setting the bar for heralded rookie Sam Darnold on a night the Green & White's quarterbacks dominated the Falcons, Bridgewater hit on seven of eight passes for 85 yards with 1 TD.
"It was definitely a great feeling just being out there with the guys," Bridgewater said. "The greatest feeling is coming away with a victory, seeing all of your hard work in training camp paying off. That's the best feeling. But it was a great feeling for me personally, being back out there after a couple years off seeing live action. It felt good getting hit again even though you never want the quarterback to get hit. It wasn't a sack or anything, but it felt good being out there and I'm excited."
At just 23 and with two seasons under his belt, Bridgewater suffered a horrific knee injury with the Vikings in August of 2016. He missed the entire 2017 season and some medical personnel in the league wondered if he ever played again. But after getting a few snaps with the Vikings last year in reserve duty, Bridgewater signed with the Jets in March after passing a physical. He looked good in the spring and has progressively gotten better at training camp, but a critical question remained. How would Bridgewater, who dons a red jersey at practice with his team, respond when he was a live target?
Taking over for Josh McCown on the Jets' second possession, Bridgewater faced a third-and-11 from the Atlanta 40. He stood tall and took a shot (albeit upstairs) while connecting to Robby Anderson on a crossing pattern for 8 yards. Then on fourth-and-short, Bridgewater kept the drive alive with a short toss to Jermaine Kearse.
"I think it's great for him to get back out on the field," head coach Todd Bowles said. "Just to enjoy himself and have some success early is great for him. I know he had a big smile on his face, so I'm just happy for him."
His opening possession culminated on a third down as he stepped up in the pocket and hit a crossing Isaiah Crowell. With a head of steam, Crowell barreled his way into the end zone and Bridgewater had the Jets on the board.
Bridgewater would lead a second scoring drive and his top throw of the evening might have been a 21-yard connection to tight end Neal Sterling. Opening the second quarter, Bridgewater held the Falcons' safety with his eyes and then the ball exploded out of his right hand to an open Sterling. In two Bridgewater drives, the Jets scored 10 points and he had a 150.5 passer rating.
"I think right now it's an overall team effort for me whether it's coaching staff, trainers or myself," he said. "We've established a routine and it's working. For me personally, I have to continue to keep a solid base when I'm out there on the football field. Whenever I have a solid base and shoulders square, I play my best football. I have to continue to perfect that and the rest will take care of itself."