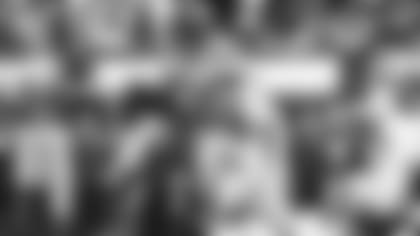 He didn't make his way onto the Jets roster until the day before 2019 training camp kicked off, but Ryan Griffin certainly made his mark by the time the season ended.
"I was just trying to get on the field, to be honest," the 6'6", 255-pound tight end said about the transition. "I knew the roster was packed with talent, especially at the tight end position, so I just tried to come in and do my job every day. In my experience, if you do that, everything else works out."
Griffin arrived at One Jets Drive in the middle of the summer as the new kid on the block, having spent his entire career with Houston up until that point. In six years with the Texans, Griffin recorded 136 receptions for 1,491 yards and 7 touchdowns. But one of the 30-year-old's most impactful seasons came last year when he reeled in 34 passes for 320 yards and a career-high 5 touchdowns. His new-found achievement was largely attributable to his versatile role in the offense.
"It's multiple," Griffin said. "I could be lined up outside the numbers, in the backfield as a fullback or in line as a stereotypical tight end blocking the point of attack in the run game. There's just a whole lot that Adam [Gase] can do with us as tight ends, and we do have different body types in the room, so we try to complete the job with whoever we can. It's a really exciting position to play here in this system."
At the beginning of the season, hopes were first placed in second-year tight end Chris Herndon to have a breakout year following his rookie campaign in which he recorded 39 catches for 502 yards and 4 touchdowns. His season was cut short, however, after missing the first four games because of a suspension which was followed by hamstring and rib injuries.
Herndon's absence resulted in a heavy lean on Griffin. Having signed a multiyear extension in November, the Connecticut product now sets his sights on sharing the field with Herndon in 2020.
"I'm excited for Chris to get back. He's very versatile and he can do a whole lot of things in this league," Griffin said. "He's a young kid, and I'm looking forward to him getting a full season under his belt and under the system as well. When we're both out there, I think it just opens up the playbook that much more for Coach Gase. I'm really looking forward to seeing what this offense can do when everyone is healthy and there are no nagging injuries, no sickness, no illnesses, and everybody is on the same page."
With expectations of starting this upcoming season healthy, Griffin plans to stick to the same routine that helped him find success this past year.
"That's just been my process," Griffin said. "I come in, do what they ask me, I'm on time and guys see that. I like that I got some respect out of just my routine. Hopefully I can continue that and get it going this year."