WR Saalim Hakim is fast. How fast is he?
He's so fast that when he ran the 40-yard dash for his Tarleton State Pro Day in March 2010, the scouts asked for a mulligan because they didn't believe their watches.
He ran even faster the second time.
"I wanted to at least get a 4.1-something," Hakim said in a no-big-deal manner. "I wanted to beat Bo Jackson's time of 4.12, but I got a 4.23. It wasn't what I was aiming for, but it happens."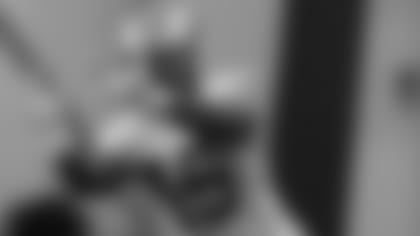 To put that in perspective, Tennessee Titans RB Chris Johnson's 4.24 at the 2008 NFL Combine hasn't been matched since.
So with a player this fast, why have NFL teams been so slow to come around to him?
"I didn't start playing receiver until my freshman year of junior college," he explained. "The only route I knew how to run was a go route and a deep post, so I've just been learning ever since."
Hakim's one-trick-pony skillset led to his going undrafted, although if there was an eighth round, that might not have been the case.
"Eighteen teams called me as soon as the draft ended," Hakim said. "My phone just kept ringing. It was kind of crazy because they all called at the same time. I knew wherever I went I was going to have to learn a lot."
A personal phone call from Dallas Cowboys owner Jerry Jones proved to be the most persuasive pitch. He signed with the Cowboys in April 2012 before going to the St. Louis Rams and the New Orleans Saints. We signed him to our practice squad two months ago.
His older brother, Az-Zahir Hakim, had a very successful nine-year NFL career from 1998-2006 as a receiver/return specialist. He scored 32 total touchdowns, including three on punt returns, for the Rams, Saints and Lions. "I'm going to try to be better than him," Saalim said.
Certainly a tough task, but if he can climb the learning curve, the sky's the limit for this 23-year-old Jet.
In his first game for the Green & White, at Carolina, Hakim turned an end-around handoff into 8 yards. On special teams, he was in on kickoff coverage, but if his practice reps are any indication, it might not be long before we see him line up as the returner on punts and kicks.
"Hakim can run," special teams coordinator Ben Kotwica said at his Thursday afternoon news conference, adding that he needs just a little more work before he's ready for in-game return responsibilities.
"He doesn't have a ton of football experience, but he is learning," Kotwica said. "Being a good kickoff returner, you have to have a couple more elements than just being able to run fast and he's working hard at it. One of them is seeing the blocking schemes and he's done a much better job of that during the time he's been here. So we're getting more and more comfortable with him and I think you may see him in more packages as we move forward."
In the meantime, Saalim Hakim will continue to watch tape, learn his routes and study the playbook. Lack of experience might be holding him back but lack of confidence certainly isn't.
"I can do it all," he said. "I can do every position, kick return, punt return, run every route. I just want to show them I can get better at everything they want me to do. I want the ball my way at all times. It feels good when you're the one with the ball because everybody's looking at you, so you have to do something to make everybody proud. It felt good on Sunday, and I definitely feel blessed."