Steve McLendon is a different breed of nose tackle than the one we knew for the past three seasons. In fact, McLendon, who arrived in March as an unrestricted free agent from Pittsburgh, isn't listed as an NT by the Jets but as a DT.
And that's one reason he reminds that he's not here now to "fill the shoes" of departed UFA Damon Harrison.
"Oh, no, I'm not here to replace anybody or fill anybody's shoes. We're two different types of players," McLendon said. "I'm just here to play ball."
As for where we'll find him most often on the field, he is a multiple warhead.
"I just felt like I wanted to be able to do more," he said of his D-line evolution. "In order to last in the NFL a long time, I feel like the more you can do, the better you'll help your situation. I just started learning every position, and that helps you be successful."
Another reason we could see the new No. 99 lining up at 1- or 3-technique or even in the nickel is his athleticism. He's a quick, light-on-his-feet 320 pounds, which has helped not only stop the run but also, despite two-gapping for much of his time in Pittsburgh, push the pocket to the tune of five career sacks. (Two of those sacks came against Bengals QB Andy Dalton, whom he's in line to see again when the Bengals open the season at MetLife Stadium on Sept. 11.)
"Right now I'm working on it all. I'm trying to be able to do it all, whatever the coaches say," he said. "If they need me to play run or pass, that's my key goal right now is to be successful in this defense."
Fans will remember from the stories when he first signed with the Jets that McLendon has an interesting hobby that has helped him pursue his passion: ballet. He didn't want to talk about it now so as not to take away from his football, but he did confirm that he still turns to the dance "as something that's a part of my workouts."
Defensive coordinator Kacy Rodgers was asked last week whether he and head coach Todd Bowles will have to tweak their scheme since the 350-pound Harrison is no longer anchoring the middle of the run defense.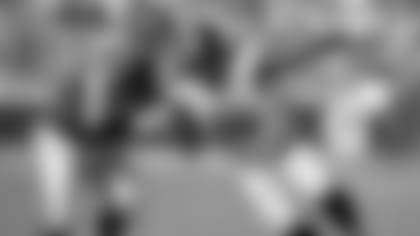 "You still have to stop the run in this league," Rodgers said. "As we look at it and see our pieces more, sometimes you might have to do it a little differently than the way Snacks did it, but we feel very capable with the guys we have in there."
Specifically speaking about the addition of the seventh-year pro McLendon and the sixth-year man Jarvis Jenkins to the front line, Rodgers said that early in OTAs, "they are the ultimate professionals. McLendon's coming from Pittsburgh, which played pretty good to really good defense, and Jenkins, we like his athleticism and his size to complement the guys we already have in the room. So far, we're very pleased with those guys."
And McLendon is pleased to be a Jet after six seasons with the Steelers.
"The main thing I learned over there is to work hard every day, to play fast, play hard, play smart, and just do whatever it takes inside the defense to help the team be successful," he said. "This is a players' defense, a very talented defense. It'll be an exciting defense. I'm very excited about what's coming forward. I'm just glad to be here and it's just a blessing to have another opportunity to play football again."