An athlete in his own right, Aaron Steele knows what it's like to compete at a high level. Aaron was a track and field star for most of his youth, having competed at Florida State University, where his interest in photography became more than just a hobby. His understanding of the athlete, and the conditioning involved, spurred a passion to document his peers as they trained for highly competitive events. In fact, some of his friends went on to compete in the Olympics.
Before they did, Aaron was by their side, documenting their training and capturing their athletic prowess on film. He thought there was something to this newfound passion and after reading about New York Film Academy's new sports photography program with the New York Jets, Aaron knew where he needed to be. "I wanted to shoot athletes at the highest level and there's nothing higher than the NFL."
This year, for the first time ever, the New York Film Academy partnered with the Jets to give students an unprecedented opportunity to learn their craft while photographing an NFL team throughout an entire football season, from the draft to practices, on the field for games, media events and much more.
While Aaron already had a year of photography lessons under his belt, he never imagined what it would be like to photograph on the sidelines of a live Jets game.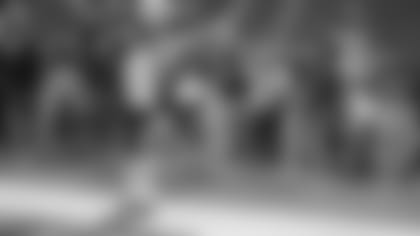 "It was very overwhelming at first, but once you get into it, it's amazing," he said. He describes the jockeying for position with other photographers as a sport of its own. There's no way to teach an experience of this magnitude in the classroom. You need to be there to truly get a feel for the world of professional sports photography — a notion that the New York Film Academy was founded upon. There's nothing more hands-on intensive than being thrown onto the sideline of a hard-hitting New York Jets game with a camera, having to make split-second creative decisions.
In a sense, the photographer has a lot in common with the player. In this shot, Aaron capture's Arizona quarterback Ryan Lindley as he eyes up his Jets defensive opponent, Bart Scott, at the line of scrimmage. "I originally was looking for a simple shot of the QB lined up behind the center," says Aaron. "It wasn't until I got home and uploaded the pictures that I saw I had a great shot of what a QB worries about during every play."
Timing is everything in sports, and in sports photography. If we take a look at another photo from Aaron, we see that even the photographers in position just a few feet away aren't able to capture this toe-tapping grab from Cardinals wide receiver Michael Floyd. However, Aaron, on full alert on the balcony of the 200 level at MetLife Stadium, was able to grab this shot. If the officials had any doubts about Floyd being in bounds, Aaron's picture would be the definitive proof.
"Aaron takes an interesting approach to sports photography, like he is prepping for a race," said Jets team photographer, Al Pereira. "It serves him well. He's got everything he can handle in place before he steps out onto the field, and then he's ready to roll. As the class progressed, it was fun to see his shots getting better each time out — training really does pay off! Taking his athlete's approach, I believe he will do quite well in continuing to capture great moments as he already has."
Aaron believes if it weren't for his involvement with the New York Film Academy's hands-on sports photography program, "I wouldn't be in the same position." His intention is to photograph his friends, who will likely be competing in the 2014 Olympics in Rio de Janeiro, Brazil. Until then, he'll be showing off his top-notch portfolio with New York Jets credentials already under his belt.