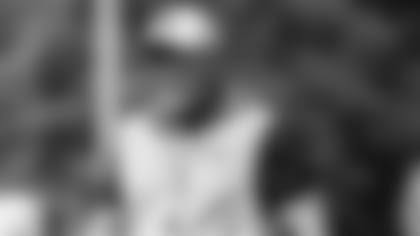 When the Jets and Eagles hit the turf Sunday afternoon at Lincoln Financial Field, two familiar faces will be matching up against one another. Jets special teams coordinator Brant Boyer and Eagles special teams coordinator Dave Fipp are far from strangers, and this weekend won't be the first time they've been on the same football field together. 
"Fipp and I actually played together in college — he was a teammate of mine. He's a heck of a guy," said Boyer, who played alongside Fipp at the University of Arizona. "He does a great job down there. He's one of the better coaches in the league."
Boyer's time with the Wildcats came first, from 1992-1993, when the inside linebacker and team captain became part of the school's "Desert Swarm" defense, leading the team in tackles his senior season. He also played a large role in helping them to their first 10-win season in 90 years and later earned a place in the school's Ring of Honor. Fipp, who started his collegiate career as a walk-on in 1994, led Arizona's special teams in tackles as a sophomore, then became the starting free safety his final two years.
"I think it's kind of funny, we always laugh about it. [Jeff] Hammerschmidt was also with us at Arizona, too, so he knows him really well," Boyer said of his top assistant. "It's always kind of fun to see the guys you went to school with, you played with or coached with and they're on different teams. There's a bunch of that in this league."
Both Boyer and Fipp have found success in their professional careers as coordinators. In his first three seasons with the Jets, Boyer transformed a unit that — according to FootballOutsiders.com and Rick Gosselin, who has compiled ST rankings for the past 39 years — ranked in the bottom 10 in ST rankings in 2015 into the number one unit in the NFL in 2018.
Since the start of last season, the Jets special teams have accounted for three touchdowns, tied for the most in the league. Punter Lachlan Edwards has set single-season franchise records in net punting in each of the past two seasons (40.5 and 40.8) and his net currently stands at 41.5 through three games. After the free-agent departure of Pro Bowler Andre Roberts, Boyer is working with a new kick return man in Trenton Cannon plus a new punt returner in second-year player Braxton Berrios. And following a turbulent offseason at kicker after Jason Myers' exit to Seattle, the Jets hope they have found their answer in Sam Ficken.
Fipp's unit has accounted for an NFL-leading 12 TDs since 2013 and he has also coached multiple players to Pro Bowl appearances. Veteran Darren Sproles is handling the punt-return duties for the Eagles while rookie Miles Sanders, who sprung free for a 67-yard return last week against the Packers, has become the team's primary kick returner. Placekicker Jake Elliott is off to a perfect start and punter Cameron Johnson has averaged 48.1 yards on his boots with eight of his punts downed inside the 20.
"I think they've got a great return unit, they've got really good special teams players, and they've got two very good kickers," Boyer said of Fipp's group. "I think he does a fantastic job with schemes and everything like that. I think that we'll have our hands full, but we'll see how it goes when we strap it up and get going."