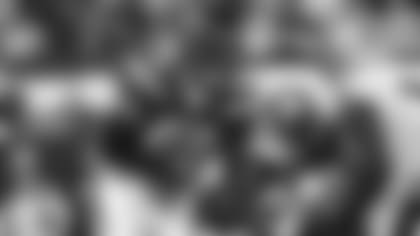 This story will also appear in the New York Jets Special Advertising Supplement in Friday's New York Daily News.
For the second consecutive year, the Jets swore in a six-man draft class headlined by another third overall selection — Alabama defensive lineman Quinnen Williams.
"He's done very well and what I would say about him is we've just scratched the surface with him," defensive coordinator Gregg Williams said. "I understand how young he is and he's going to continue to move up and up. Until you get a chance to be with him every day, you don't realize how smart he is. He's very sharp. He has quickly earned the respect of other players and veterans on the team for how he's conducted himself. Good young man."
The 21-year-old Williams, who exudes a genuine youthfulness with an ear-to-ear smile, is mature beyond his years and eager to learn, often picking the brains of both veterans and coaches. In four months with the team, the 6'3", 303-pounder has played with both the first and second teams.
"Now, it's just playing to my ability, just playing like I did in college and being myself," Williams said. "I take it day by day. Every day I try to get better, every day I try to get a step closer to the person I want to be in the NFL and the things I want to achieve. That's really what I'm focused on — dominating every day up to the game."
A one-year starter at Alabama, Williams racked up 71 tackles, 19.5 of them for loss and eight sacks, while earning first-team All-SEC and unanimous All-American honors in 2018.
"When I really noticed him stepping out was actually in spring practice prior to last year," Alabama head coach Nick Saban said. "I said, 'Man, this guy is really active, he's making a lot of plays. He's gotten bigger and stronger, but he still has great initial quickness. He's a good pass rusher, a smart player.' So that's where I noticed that this guy is going to be something special."
The Jets rounded out their draft class with five more picks — Florida edge rusher Jachai Polite (Rd. 3, No. 68), Southern Cal tackle Chuma Edoga (Rd. 3, No. 92), West Virginia TE Trevon Wesco (Rd. 4, No. 121), Minnesota LB Blake Cashman (Rd. 5, No. 157) and Rutgers CB Bless Austin (Rd. 6, No. 196).
Polite was the only draft choice who didn't make the 53-man roster. He was a final cut and cleared waivers before signing with the Seahawks' practice squad. The former Gator totaled 11 sacks last season and led the nation with six forced fumbles.
Edoga flashed at times in training camp, predominantly lining up with the second team at left and right tackle. The USC product also took first-team reps on the left side when Kelvin Beachum missed some practices and started at RT for Brandon Shell in the second and fourth preseason games.
"Everything we saw on tape from his college film is showing up out here," offensive line coach Frank Pollack said. "He's extremely athletic, he's smart, he has good length, and he's learning the finer things as far as our technique and what we're looking for and what it means to be a pro. He's had a few rookie hiccups along the way, but we're really excited about his progress."
Wesco's forte comes in the trenches — he was widely regarded as this year's best blocker among rookie tight ends. The 6'3", 267-pounder didn't have a significant role as a receiver in West Virginia's offense, but he had a career year last season with 366 yards and one touchdown on 26 receptions.
Cashman, a former walk-on at Minnesota, brings speed, athleticism and hard work to the Green & White defense. The 6'1", 237-pounder ran a 4.50 40-yard dash and has received some first-team reps this summer to measure his performance against better competition, especially in coverage.
"Blake is doing a good job learning the system," Frank Bush, Jets assistant head coach defense/inside linebackers coach, has said. "He's made some plays on the ball, shown some man-coverage skills. He's doing a good job of grasping the system and is given a good opportunity to show his athleticism."
Austin started training camp on the Active/Non-Football Injury list as he's rehabbing a knee injury suffered in the first game of his final year at Rutgers. The 6'1", 198-pounder totaled 89 tackles, four interceptions and 18 pass defenses in four seasons with the Scarlet Knights.