SportsNet New York took home two Emmys over the weekend for Jets programming which first aired between Aug. 31, 2009 and Aug. 31, 2010.  The announcement was made Sunday as the 54th annual New York Emmy Awards were held at the Marriott Marquis Times Square.
"Everyone involved with the Jets programming on SNY was thrilled with the Emmy wins," said SNY coordinating producer Will O' Toole.  "It was truly a team effort. We had been nominated for several since our partnership with the Jets began, so it was really satisfying to win this year.
"One of the main reasons that the partnership between SNY and the Jets has been so successful over the years is the increased, behind the scenes access we have gained each season. It has given us an opportunity to showcase the personalities of the Jet coaches and players, which has allowed us to serve the Jet fans with one-of-a-kind programming."
On Jan. 18, 2011, the Jets and SNY announced a multi-year extension of their comprehensive television and marketing partnership.
"We've had a great partnership with SNY for the past five seasons and we're pleased that they continue to get recognized for their in-depth coverage and original programming dedicated to our team," added Bob Parente, Jets senior vice president of programming and media production.  "We were proud to get nominated for seven Emmy nominations overall broadcast on three networks — SNY, WCBS-TV and Fios 1 News."
Sports Coverage: Single Story
Curt Gowdy, Jr., Executive Producer; Will O'Toole, Coordinating Producer; Ricky Recchia, Associate Producer; Andrew Johnston, Photographer/Editor; Jeane Coakley, Brian Custer, Reporters.
On Camera Talent: Sports Analyst
• Ray Lucas (SNY) September 15, 2009
"The Jet programs on SNY are produced by a small but passionate group of people, and it was great to see the efforts of all involved recognized this year," O'Toole said.
Additional Jets' Emmy nominations:Graphic: Sports
• Rich Gentile, Jets Flight Plan (WCBS-TV)
• Rich Gentile, Jets Huddle (Fios 1 News)
• Mark Rusciano, Jets on SNY
Sports Programming: Program Series
• Jets Nation: Inside Camp (SNY)
Sports Programming: Special• Broadway Joe Marching on (SNY)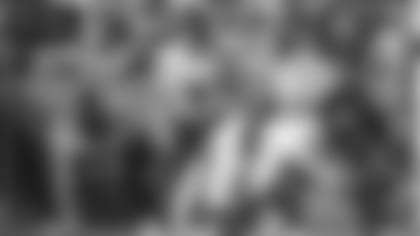 news
Jets at Broncos | 3 Things to Know for Week 5
OC Nathaniel Hackett Returns to Denver; HC Sean Payton, QB Russell Wilson Lead 'Underrated' Team