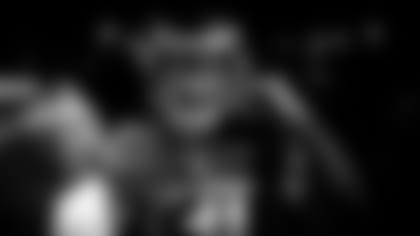 The Jets got back in the win column on Sunday, fending off the Giants 34-27. Let's dive into the snap count and analyze how playing time was distributed.
OFFENSE
The Jets ran 65 plays on offense against the Giants, five fewer than last week in Miami and seven from the season-high total of 72 against Buffalo in Week 1. There was no shortage of contributors that had a hand in the unit's most productive outing of the season, as 19 players saw the field for the Green and White's offense. Five members of the group were on field for every play (65 total): Sam Darnold, Alex Lewis, Kelvin Beachum, Jonotthan Harrison and Chuma Edoga. Brian Winters (40/65, 62%) and Tom Compton (25/65, 38%) split time at right guard, after a shoulder injury ended Winters' day prematurely.
Darnold completed 19-of-30 passes, for 230 yards against the Giants. The second-year QB connected with Jamison Crowder on a 23-yard scoring strike, while also adding a two-yard touchdown scamper to open up the day's scoring. It marked the third consecutive game the offense took the opening possession down the field into the end zone (13 plays, 75 yards, 7:39). Darnold also played his first turnover-free game since the season-opener against the Bills.
As per usual, Le'Veon Bell led the running backs in playing time. Bell totaled 68 yards from scrimmage, while playing 48 snaps (74%). Bilal Powell received his most on-field time of the season, totaling 15 snaps (23%). Veteran Ty Montgomery was in for five plays (8%).
The Jets had five wide receivers involved in the offense. For the fifth straight outing, Robby Anderson led the group in playing time with 54 snaps (83%) and had one grab for eleven yards. Demaryius Thomas (48/65, 74%) had his most productive afternoon as a Jet, leading the team with six catches for 84 yards. Crowder (47/65, 72%) collected five catches for 81 yards, including a 23-yard touchdown, his second in as many weeks. Vyncint Smith was on field for 17 snaps (26%), while Braxton Berrios received a pair of reps (3%), as well.
The tight end group welcomed back second-year standout Chris Herndon to the lineup. Herndon was in for 18 snaps (28%) and totaled one grab for seven yards in his season debut. As he has all year, Ryan Griffin once again led the group in playing time (42/65, 65%). Rookie Trevon Wesco (18 plays, 28%) caught the first pass of his NFL career, good for 15 yards, while also carrying the ball once for two yards. Daniel Brown (11 plays, 17%) contributed, as well.
DEFENSE
The Jets defense was on field for 72 plays against the Giants. For the fourth time in the last five games, 18 players saw action for Gregg Williams' group. Only one of them was on field for all 72 snaps: linebacker Brandon Copeland. The unit recorded six sacks of Daniel Jones and held the Giants to just 23 yards rushing on the afternoon, including one yard on 13 carries for Saquon Barkley.
Six defensive linemen were active on Sunday. For the second straight week, it was rookie Quinnen Williams pacing the unit with 46 reps (64%). Fellow first-year pro Kyle Phillips was in on 38 plays (53%) and had a pair of tackles. Henry Anderson saw action on 36 snaps (50%), while fellow vet Steve McLendon (28 snaps, 39%) notched three tackles to go with a half sack. Folorunso Fatukasi (21 snaps, 29%) had a pair of tackles, including one for loss. Nathan Shepherd had a breakout performance in just his second game of the season. Shepherd (26 snaps, 36%) had three tackles, three for loss and a quarterback sack.
As the only member of the defense to play every snap, Copeland led the way for the linebackers with seven tackles. James Burgess was on field for all but one snap (71/72, 99%), contributing seven tackles, a pass breakup and a half sack. Jordan Jenkins (43/72, 60%) recorded a pair of sacks and now has three in the past two games. Tarell Basham (49 snaps, 68%) had a pass breakup and a hit on the quarterback. Harvey Langi (9 plays, 12%) had three tackles, including one for loss.
Three members of the secondary were on the field for all but one play, playing 71 of 72 snaps: Jamal Adams, Marcus Maye, and Arthur Maulet. Adams enjoyed one of his best performances as a pro, collecting a team-high nine tackles, two sacks, and a 25-yard fumble return for a touchdown. Maulet had five tackles while seeing his most playing time of the season. Brian Poole (64 snaps, 89%) made important contributions in his usual slot corner role. Nate Hairston (24 snaps, 33%) registered three tackles, including one for loss. Rookie Bless Austin made quite the impact in his NFL debut. The sixth-round pick from Rutgers played 49 of 72 snaps (68%), made three tackles and had a pair of pass breakups. Matthias Farley was also in on two plays (3%).
SPECIAL TEAMS
On special teams, Daniel Brown led the way with 30 snaps while Matthias Farley was close behind with 26. Tarell Basham, Frankie Luvu and Paul Worrilow each contributed with 23 reps. Kicker Sam Ficken connected on two of his three field goal attempts on the afternoon, including a 53-yarder.