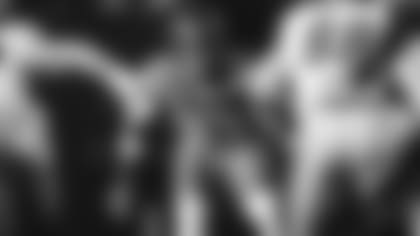 The Jets picked up their fifth win in seven tries after downing the Steelers, 16-10. They closed out the home portion of the schedule on a four-game winning streak and finished with a winning record at home for the first time since 2015 (5-3). Let's break down the snap count and analyze how playing time was distributed.
OFFENSE
The Jets ran 61 plays on offense against Pittsburgh, which is two more than last week at Baltimore. For the third time in four weeks, 17 players saw the field for the Green and White's offense and six members of the group were on field for every play (61 total): Kelvin Beachum, Alex Lewis, Jonotthan Harrison, Conor McDermott, Brandon Shell, and Sam Darnold.
Darnold completed 16-of-26 for 183 yards and a 23-yard scoring strike to Robby Anderson. The opening drive touchdown was the team's fifth of the season, which is the most by the Green and White since the 2008 campaign. In winning five of his last seven starts, the second-year signal caller has totaled 14 touchdowns (two rushing) with only 3 interceptions.
Le'Veon Bell (56/61, 92%) turned in another workhorse performance against his former Steelers mates. Bell churned out 72 yards on a season-high 25 carries, while also bringing in 4 grabs for 21 yards. Ty Montgomery (8/61, 13%) and veteran Bilal Powell (4 snaps, 7%) made contributions, as well.
The Jets once again had five wide receivers involved in the offense. Once again, the unit played without the injured Demaryius Thomas (knee/hamstring). Anderson (57/61, 93%) pulled in two grabs for 32 yards, while registering his fourth touchdown in the last six games. Jamison Crowder (52/61, 85%) led all wideouts with 4catches for 60 yards. Vyncint Smith (49/61, 80%) equaled his personal best with 3 catches for the second straight outing. Braxton Berrios (5 snaps) and practice squad call-up Josh Malone (5 snaps) also saw action.
Only two tight ends dressed against the Steelers. Daniel Brown (41/61, 67%) was targeted once. Rookie Trevon Wesco (18/61, 30%) recorded his second catch of the season, good for 32 yards.
DEFENSE
The Jets defense was on field for 67 plays against the Steelers. Nineteen players saw action for Gregg Williams' unit, three more than last week's season-low of s16. Only three never left the field for all 67 snaps: James Burgess, Jamal Adams and Arthur Maulet.
Seven defensive linemen were active against Pittsburgh. Rookie Quinnen Williams (42/67, 63%) made a triumphant return to the lineup with 4 tackles and a quarterback sack. Henry Anderson (45/67, 67%) led the group in playing time while picking up a pair of tackles. Fellow first-year player Kyle Phillips (27/67, 40%) had 3 tackles, 2 for loss, and a quarterback sack. Veteran Steve McLendon (27/67, 40%) registered 3 tackles. Foley Fatukasi (23/67, 34%) added 3 tackles to go with his first sack of the season. Nathan Shepherd (21/67, 31%) and Jordan Willis (13/67, 19%) were part of the rotation as well.
It's been nine games since James Burgess was elevated from the practice squad. The linebacker has been a mainstay for the Jets defense, playing all but four snaps. Against the Steelers he tied for the team lead in tackles with eight, one and a half for loss, while being on-field for all 67 plays. Neville Hewitt (57/67, 85%) also picked up eight tackles, to go with his third sack of the season. Jordan Jenkins (41/67, 61%) collected a pair of stops. A week after blocking a punt against the Ravens, Tarell Basham (29/67, 43%) notched his first career interception against Pittsburgh. With the Jets 'D' playing three-deep, Basham dropped into coverage when Jamal Adams blitzed and forced Devlin Hodges into the errant throw. Brandon Copeland (24 snaps, 36%) picked up three tackles, one for loss, and a pair of pass breakups.
The secondary welcomed back a trio of contributors, namely Adams, Maulet and Brian Poole. Adams (67/67) returned after a two-game absence and tied for the lead in tackles with 8, including 2 for loss and a hit on the quarterback. Maulet (67/67) also had 8 stops while playing every snap for the first time this season. His previous high in snaps was 71/72 against the Giants in Week 10. Marcus Maye played all but two snaps (65/67, 97%) and turned in one of his best performances of the season. The third-year safety had 4 tackles, an interception and a pair of key pass breakups. Poole (54/67, 81%) registered 3 stops and a hit on the quarterback. After playing all but two snaps the previous four games, Bless Austin was on field for 37 of 67 snaps (55%) and picked up 4 tackles. Maurice Canady (30/67, 45%) had 5 tackles, 1 for loss, a week after playing a season-high in snaps. Darryl Roberts received just one snap, after only leaving the field twice the previous two weeks.
SPECIAL TEAMS
On special teams, Matthias Farley once again led the way with 22 snaps, while Darryl Roberts was close behind with 21. Daniel Brown and Paul Worrilow were next up with eighteen apiece. Sam Ficken had a perfect afternoon at the office, converting all three of his field goal tries, including a 54-yarder.