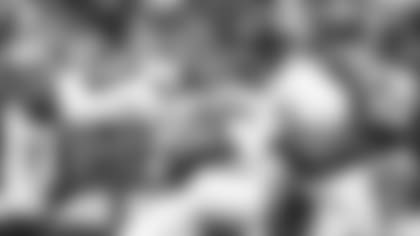 The Jets closed out the 2019 campaign on a high, defeating the Bills, 13-6. The Green and White finished up with a record of 7-9, going 6-2 over the final eight games. Only the Ravens had a better record during that stretch. Let's analyze how playing time was distributed and check out the snap count.
OFFENSE
The Jets ran 67 plays on offense against Buffalo, which is six more than last week against Pittsburgh. For the second time in three weeks, 16 players saw the field for the Green and White's offense and six members of the group were on field for every play (67 total): Kelvin Beachum, Brent Qvale (making his first start), Jonotthan Harrison, Conor McDermott, Brandon Shell and Sam Darnold.
Despite having to overcome rainy conditions, Darnold completed 23-of-36 for 199 yards with a touchdown and an interception. In winning six of his final eight starts, the second-year signal caller totaled 15 touchdowns (two rushing) with only 4 interceptions. Darnold finished the season with a 7-6 record in games he started.
Le'Veon Bell (46/67, 69%) totaled 77 yards from scrimmage on 21 touches in the season finale. Bell wrapped up his first season in Green & White racking up 1,250 total yards in 15 games. Bilal Powell (15/67, 22%) and Ty Montgomery (4 snaps, 6%) saw action against the Bills as well.
The Jets once again had five wide receivers involved in the offense. Robby Anderson (65/67, 97%) pulled in 3 grabs for 18 yards, while leading the group in playing time. Jamison Crowder (55/67, 82%) led all wideouts with 8 catches for 66 yards and a touchdown. Vyncint Smith (50/67, 75%) equaled his personal best with 3 catches for the third straight outing. Josh Malone (16/67, 24%) saw an increase in playing time from the five snaps he received in last week's debut. Braxton Berrios (10/67, 15%) had 1 grab for 11 yards.
For the third straight game, only two tight ends dressed against the Bills. Daniel Brown (47/67, 70%) had a season-high 3 catches for 32 yards. Rookie Trevon Wesco (27/67, 40%) didn't record a catch in the finale of his freshman campaign.
DEFENSE
The Jets defense was on field for 64 plays against the Bills, three fewer than last week against Pittsburgh. Seventeen players saw action for Gregg Williams' unit, one more than the season-low of 16 that appeared against Baltimore (Week 15). Five players never left the field for all 64 snaps: James Burgess, Jamal Adams, Marcus Maye, Maurice Canady and Arthur Maulet.
Six defensive linemen were active against Buffalo. For the first time since Week 11 in Washington, rookie Quinnen Williams (40/64, 62%) led the group in playing time. Nathan Shepherd (33/64, 52%) picked up a pair of tackles, including one for loss. Shepherd appeared in more than 50 percent of the team's snaps in three of the last four games. Kyle Phillips (30/64, 47%) closed out his freshman season with usual contributions to the rotation. Folorunso Fatukasi (29/64, 45%) recorded a tackle for loss. Veteran Steve McLendon (25/64, 39%) made a pair of stops for negative yards. Henry Anderson was limited to just 11 snaps (17%) after leading the group in four of the previous five games.
Burgess capped off a remarkable run since his elevation from the practice squad 10 games ago. The linebacker became a mainstay for the Jets defense, playing all but four snaps during that 10-week stretch. In Buffalo, he led the team with 9 tackles, including 1 for loss, while being on-field for all 64 plays. Burgess also notched his first career interception of Matt Barkley. Neville Hewitt (61/64, 95%) picked up 4 tackles to go with 1 pass breakup. Jordan Jenkins (48/64, 75%) collected 3 tackles for loss including his team-leading, and career-best, eighth sack. Tarell Basham (39/64, 61%) had 2 pass breakups, a week after recording his first career interception. Basham also had 1 sack and forced fumble overturned by replay review. Brandon Copeland (22/64, 34%) recorded a pair of stops, while Frankie Luvu appeared in one play for his first action on defense since Week 12 against Oakland.
Only five defensive backs saw action on defense, four of whom played every snap. Maye capped off this third season by starting all 16 games for the second time in his three-year career. Maye (64/64) recorded 7 tackles against Buffalo. Adams (64/64) closed out his Pro Bwol year with 3 tackles and a pass breakup. Maulet (64/64) had 7 stops including one for loss, while playing every snap for the second straight week. Maulet also picked up his first career interception to help preserve the victory. For the first time all year, Canady (64/64) played every snap while making a pair of tackles. Brian Poole (45/64, 70%) registered 3 stops including 1 for loss.
SPECIAL TEAMS
On special teams, Matthias Farley once again led the way with 20 snaps, while Darryl Roberts was close behind with 19. Daniel Brown (18 snaps) and Brandon Copeland (17 snaps) also made contributions. Sam Ficken went 2-for-4 on field goal tries and made his only extra point attempt.