The Jets have a new offensive weapon and they haven't unveiled him just yet.  But that may change Saturday night as RB Matt Forte, who had been slowed by a hamstring early in camp, could be cleared for preseason takeoff.
"It's as important as any game that you're going into because this is the main game before the regular season," Forté  said this week. "You want to get everything on the same page with the offense and go out there and execute a lot of the plays and get everything underway. That way going into the season, the first game is not your first time trying stuff."
Natural ProgressionThe Green & White took a cautious approach with Forté this summer, holding him to individual drills before he was cleared for 11-on-11 duty on August 17.  On that afternoon, Forté motioned out of the backfield and the versatile back was on the receiving end of a seam pass from Ryan Fitzpatrick. And during the past couple of weeks, Forté has put in excellent work, showcasing his trademark skills, with the first-team offense.
"He's been fresh. He's been healthy," said head coach Todd Bowles of Forté.  "You would like to get him banged around a little bit, so he can get used to his pads a little more. If he continues to be healthy, we will try to get him some reps on Saturday if we can."
After eight years with the Bears, Forté made it clear he wanted to play for a contender once free agency commenced.  He chose a Jets club in March that established a franchise record for total yards last season (5,925) and was the only NFL team with double-digit wins that missed the postseason.
"It's pretty natural. It goes by fast, but it's definitely a natural progression from one spot to another," he said. "It's been great being in an organization like this, with teammates that I have here and it's easy to gel and mesh. Now that I'm practicing, it's been fun to get back out there and get on the field and in the huddle with everybody."
"I Want to Succeed So Badly"Forté has instantly made a connection in the locker room as offensive linemen are frequently wearing "Work Horse" tee-shirts throughout the building. He had a good friend coming in as Forté was teammates with WR Brandon Marshall in Chicago from 2012-14.
"Well, we argue every single day because in Chicago he took a lot of my balls. He broke the record and had 104 catches," Marshall said with a glowing smile about Forté's historic 2014 season.  "It was frustrating at times being 15-20 yards down the field hearing the crowd cheering because he's breaking a tackle or running up the sideline. So I see him trying to get a nice rapport with Fitzpatrick and I try to break that up every time I see it.  I say, 'Look, you're getting older, twilight years, you got a couple more years left, just run the ball.' But he loves that part of the game. Today he was asking me about releases off the line of scrimmage."
Since 2008, Forté ranks first among all NFL players in yards from scrimmage (12,718). He was able to take a step back at the start of camp while patience was required.
"Actually it was a good time to mentally recharge about the game. When you're out and you want to be on the field so badly, all you can do is think about it," he said. "I've been able to do that and I look forward to being out there, and I want to succeed so badly. It was a good moment to go through the first couple weeks of camp."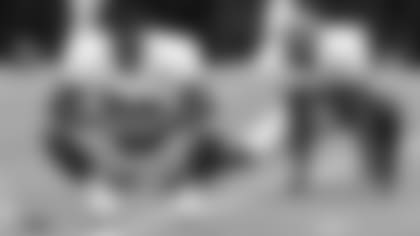 Meshing with PowellThe 6'2", 218-pound  Forté has reached the 1,000-yard rush mark on five occasions including three of the past four seasons. He will join a backfield that already features sparkplug Bilal Powell, a player who finished third on the team with 47 receptions last season and averaged 4.5 yards per carry.
"We are a lot alike personality-wise where I like watching his game and his vision when he runs,"  Forté said. "We talk a lot about what he sees and if we saw the same thing.  And a lot of times we're on the same page, even with route running. How can you beat a guy who's playing you in this type of coverage and stuff like that? We've definitely been able to mesh in that aspect and even off the field. He has a foundation, I have a foundation. We both work with at-risk kids and try to cut down violence and the statistics of young kids who are troubled and might not have some of the opportunities that other kids have."
Both Forté and Powell will get their opportunities on the field. Forté, a runner and receiver who gracefully picks up yards, has consistently made the most of his touches with instincts, patience and vision.
"I've always heard that my entire career — deceptively fast, long strider, that type of thing," he said. "It doesn't matter what kind of stride you have as long as you're gaining the yards and it's working for you. I consider myself as a smooth runner, so when you're being smooth it's a lot less of wasted movement. If you're pressing the hole and you're making guys commit to a certain side and then you get cut back, it looks very smooth and effortless, but a lot of work goes into it."
Matt Forté is ready for work and he might just make his first game appearance Saturday at Metlife Stadium.
"It'll be something I'll look forward to and give them something to cheer about," he said. "They signed me here for a reason and a lot of people were excited about it, so it'll give the fans something to be excited about in that aspect.  So I look forward to working my hardest and trying my best to be successful out there and have Jets Nation behind us."