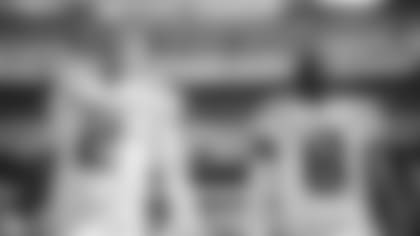 Before the Jets this offseason, the Bengals added valuable pieces around Joe Burrow on the open market including the likes of Trey Hendrickson, Mike Hilton, Chidobe Awuzie and Eli Apple in 2021 and D.J. Reader and Vonn Bell the year prior. The Bengals went from 2 wins in 2019 to 4 in 2020 to a narrow loss to the Rams in the Super Bowl, proving how quickly fortunes can change in the NFL.
The Jets' 2022 free agency class featuring LG Laken Tomlinson (San Francisco), TEs C.J. Uzomah (Cincinnati) and Tyler Conklin (Minnesota) plus S Jordan Whitehead (Tampa Bay) and CB D.J. Reed (Seattle) has caught the eye of SI.com's Albert Breer as the columnist has drawn comparisons to Cinci's recent offseason mindset.
"Don't look now, but the Jets have had a pretty nice offseason, in flipping their tight end room, adding Laken Tomlinson to the offensive line and getting Jordan Whitehead to replace Marcus Maye," Breer wrote this week in his Monday Morning Quarterback column. "And as we've said before, it smacks of what the Bengals did the last two years in free agency, in targeting veterans from winning programs to change the mentality of a place."
Tomlinson (7 games), Whitehead (6 games), Uzomah (5 games), Reed (4 games) and Conklin (2 games) have combined to play 24 playoff games. DT Solomon Thomas, a first-round pick of the 49ers in 2017, also has four postseason contests on his résumé. The Jets targeted character and winners in free agency after benefiting from a full year of Douglas and HC Robert Saleh working together.
"Kyle Shanahan runs that program like New England in that they're looking for very specific positions and there are parameters what they're looking for and there are barriers and guardrails not what not to do," Breer said at the NFL Annual League Meetings in Palm Beach, FL. "I think it takes time to flush out guys who doesn't fit that and bring in guys that do. I think the first year was a process and Joe got to learn some of that as his background was not directly in that kind of system. I think now you're starting to see where some of these things come in play, the two tight ends coming in this year, and Jordan Whitehead, going and getting yourself a safety that fits what Rob wants to do on defense."
Both Saleh and offensive coordinator Mike LaFleur were key pieces in the 49ers' build from 2017-20. Breer sees similarities in system fits as the Jets begin Year 2 of their program under Saleh.
"I think it's evident in the front seven how they want guys with long arms who get in the passing lanes and rush," he said. "You see it in receivers now. A guy like Elijah [Moore] is very much a Shanahan-type receiver. You're starting to see those type of things both with what Robert Saleh is trying to do on the defensive end."
As the Jets continue to search for ways to improve their roster, the NFL Draft is only three weeks away. Breer believes Douglas, who moved up nine spots last April in order to select USC OL Alijah-Vera Tucker, could look to be on the move early again. While he has said on multiple occasions that there might not be a player in this class who would have gone in the top 10 picks last year, Breer, like many others, has lauded the depth and that means opportunity for the Jets with four selections in the top 38.
"I think Joe will try to move around," Breer said. "But with [Nos.] 25 and 38, I think you hope you walk away with four starters."
After five QBs were selected in the first round last year — Zach Wilson (Jets), Trevor Lawrence (Jaguars), Trey Lance (49ers), Justin Fields (Bears) and Mac Jones (Patriots) —Breer says history tells us that maybe two or three of those signal-callers will experience lasting success. While he says the jury is still out on Wilson, there was ascension at the end of his rookie campaign and a more complete analysis will come during his sophomore campaign. After a sound free agency approach, the Bengals rose to another level last season as Burrow went from promising passer to a star in Year 2.
"I think a lot will be based on what is around them," Beer said of the '21 QB Class. "From that perspective, having Elijah going into Year 2, having Tomlinson added to the offensive line, hopefully you get [Mekhi} Becton healthy, playing somewhere, preferably at left tackle, and maybe you get another lineman early in the draft, now all of a sudden I think you're getting a cleaner read on Wilson."