The Jets held their second OTA practice of the week today. Again it was closed to reporters, but we heard through the grapevine that Kellen Clemens and Mark Sanchez both threw the ball well today. No big news flash there.
Wednesday is a lifting/recovery day, no practice. Then we'll know more Thursday, when the doors of the Atlantic Health Jets Training Center are thrown open to print, TV and radio reporters plus a few TV cameras and still photographers.
We can pass on some alumni news Seven former Jets showed up for today's practice. Three of them were backs and receivers who would've liked to go back in time to catch a few passes today while four were guys who like to take the ball away from offenses.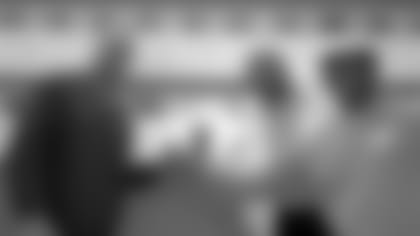 And three of those seven all happened to wear the uniform No. 42 in Green & White as captured in the accompanying photo. CB John Booty (left), Super Bowl corner Randy Beverly and multi-back Bruce Harper are all shown pointing to their uni number on the wall holding all the franchise's players by numbers inside the training facility.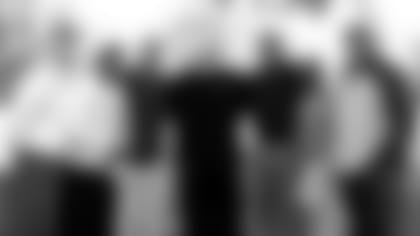 Six of the seven, representing four decades of Jets football, also gathered with Jets head coach Rex Ryan before practice. From the left we have LB Chad Cascadden (1995-98), Beverly ('67-69), Booty ('88-90), Ryan, S Erik McMillan ('88-92), Harper ('77-84) and TE Billy Griggs ('85-89). Not in the photo but also at the practice was TE Fred Baxter (1993-2000), squeaking through to represent the new miillennium at today's gathering.
The photos were snapped by VIP guest Bill Denk. Thanks for passing the images on, Bill.