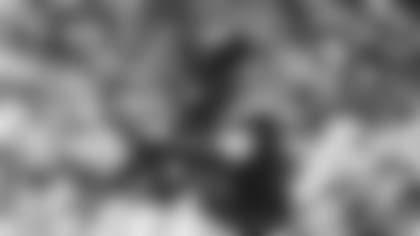 Jets head coach Robert Saleh framed up the Jets' current state of affairs with a phrase that was almost T-shirt worthy: "All our focus is on today, trying to be the best version of ourselves."
And that's just how Sauce Gardner looks at things. After all, he just turned 23 less than a month ago, he was the talk of the NFL world all last season through his award-winning February, and he has graduated from just pouring sauce onto Buffalo Wild Wings in last year's TV commercial to hobnobbing this year with "Hank," BWW's talking winged bison mascot.
"I'm always mentally good," Gardner told Jets reporters after Wednesday's practice. "You know me. It's hard to get the best of me."
And that's the approach he takes, perhaps channeling his HC, perhaps just listening to his own inner Sauce, toward the past, whether it be the difficult loss at Dallas last Sunday or this Sunday's latest attempt to end the long dryspells at the hands of their AFC East rivals, the Patriots.
"We've just got the mentality that we've got to shake back," he said about the defense's collective mood following the 30-10 loss to the Cowboys. "We didn't perform like we really wanted to. We can't dwell on the past. All we can do is look forward to this week and bounce back."
The rebounding must be done against New England, which, it's no secret this week, is looking to extend its 14-game overall win streak over the Jets and its seven in a row over the Green & White at MetLife, both streaks starting after the Jets' 26-20 home overtime win in 2015.
It doesn't matter that the Jets are better in many areas than they've been during these droughts, or that the Patriots are more desperate than usual after their 0-2 start, both losses at home and both without the Pats holding one second of a lead or a tied score with either the Eagles or the Dolphins.
But Sauce won't look back ... too much.
"We just treat every game pretty much the same for the most part. Football is football. But of course that's something we think about," he said. "That streak we haven't beat 'em, 14 games or something like that? I wasn't here, I don't think any of the coaches or players were here, so we can't really feel for the whole 14."
Gardner got some work done toward his NFL Defensive Rookie of the Year honor in the Patriots home-and-home last season. At MetLife, he had 1.5 tackles for loss in a Jets comeback that fell just short, 22-17. Three weeks later, he had an early PD and was getting ready to sauce it up in OT before Marcus Jones' last-minute punt return TD sent the Jets to a 10-3 loss at Gillette Stadium.
"Most definitely, both of them were pretty frustrating," he said with a rueful smile at the memories. "I remember the first one, MC [Michael Carter II]'s touchdown got called back. People were like if that would've counted, we would've won. Then the other one, we were ready to go to overtime and they got the punt return.
"Yeah, it was really frustrating. But we had to put it in the past."
Saleh has another saying that has permeated the team's consciousness. It's about making the main thing the main thing. And some of the main things for Gardner, his defense and the Jets this week are to get back on the winning track, go to 2-0 in the AFC East for the first time since 2012, and in the process vanquish the Patriots. Losing streaks are definitely not the main thing.
But that doesn't mean Gardner can't take a quick look back while looking ahead.
"We want to look at the positive," he said. "We want to end that."
See the Jets back on the field for Wednesday's practice to start Patriots week.