Cincinnati cornerback Ahmad "Sauce" Gardner, the Jets' first selection, No. 4 overall, in the 2022 NFL Draft, has signed his rookie contract with the Green & White.
Gardner, known for his speed in coverage on the field, becomes the quickest Jets first-rounder to sign his rookie deal in the last 40 years, edging by a day DL Leonard Williams, who signed with the Jets on May 8, 2015. With the 2015 draft's first round held on April 30, Williams actually gets the nod in another category by signing on the eighth day after being drafted. Gardner, selected on April 28 this year, signed on the 10th day after his draft and on the second day of rookie minicamp.
Since first-round picks Russell Carter and Ron Faurot signed their rookie contracts with the Jets in late May after the 1984 draft, only three other Round 1 picks before Gardner and Williams signed their rookie deals in that month: DE Hugh Douglas (May 31, 1995), TE Anthony Becht (May 25, 2000) and LB Quinton Coples (May 17, 2012).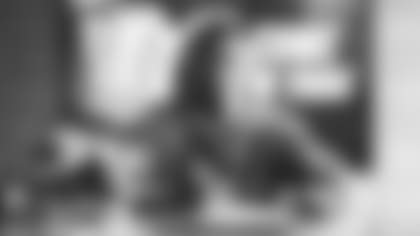 Details of the Gardner deal weren't disclosed but all NFL first-round picks receive four-year contracts with a fifth-year team option.
Gardner got his feet wet as a pro by participating in the May 5-7 minicamp at the Atlantic Health Training Center before he was expected to join his new veteran teammates during the early stages of the team's Organized Team Activity practices. He said at the joint news conference that was held last week with fellow first-rounders Garrett Wilson and Jermaine Johnson that he sees similarities with the Jets' program that he's joining and the Cincinnati Bearcats program that he helped elevate into the FBS playoff grid late last season.
"Most definitely. I feel like that's what makes this so special for me to be able to be here," he said. "I feel like I know what it takes, so I'm willing to sacrifice whatever it takes so that way we can get the ball rolling."
There is no truth to the rumor that Sauce was never beaten for a reception in his three years of college ball, only that he'd never been beaten for a touchdown reception.
"Yeah, I've gotten beaten before. Nobody is perfect," he said. "The best receivers I've guarded are probably Jameson Williams, Calvin Austin, I remember I guarded Garrett in like the fourth quarter my freshman year in college. So, yeah, those are probably the best receivers I went up against. It's just a tribute to putting the work in, the unseen work, required hours. Just making sure I practice to be consistent because I know nobody is perfect and that's just what came with it."
Gardner said he patterns his game off of Jets great Darrelle Revis, which he talked about with reporters on the night of the draft, as well as current CB stars Jalen Ramsey and Darius Slay. But of course Gardner will be his own Sauce as a Jet and said he plans to excel no matter how the team uses him.
"I fit great. However they want to use me, I'm willing to be versatile, I'm willing to do whatever it takes to win," he said. "They want to play zone, they want to play man, they want to blitz me, they want to put me at linebacker — I don't think that's going to happen, but I'm willing to do whatever it takes, however they want to use me."
Gardner, only the third Cincinnati player drafted by the Jets in the NFL common draft era and the first since T Jason Fabini in 1998, saw only 11.0% of the Bearcats' defensive targets and allowed only 13 catches overall for 117 yards —and did we mention no TDs? — in 2021. He had nine interceptions for his three-year career, two of which he returned for touchdowns as a rookie in 2019.