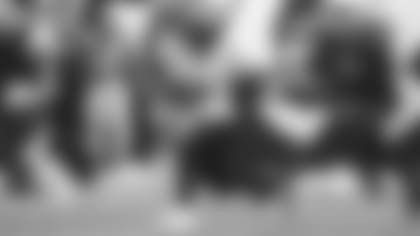 Jets CB Sauce Gardner and WR Garrett Wilson are among the top five of ESPN's rookie rankings in the 2022 season.
Gardner came in at No. 1 while and Wilson was No. 4 in a ranking created by Jeff Legwold, Matt Miller, Jordan Reid and Matt Bowen.
"He is exactly who we thought he was during the lead-up to the 2022 draft," Legwold wrote, referring to Gardner. "He is explosive and confident, has ball skills and shows the ability to bounce back quickly from the rare bobbles he had in his rookie season. His 20 pass breakups tied for the NFL lead with Jalen Ramsey."
Gardner, who was named to the Pro Bowl and a first-team All Pro, is the first Jets cornerback since Darrelle Revis in 2011 and the only Jets rookie to make the first team. Additionally, the No. 4 overall pick was the first rookie CB named to the first-team since Hall of Famer Ronnie Lott in 1981. Gardner finished his rookie season with 75 tackles and 2 interceptions.
"Gardner emerged as one of the league's best cornerbacks as a rookie and there's no reason to expect a drop-off in 2023," Miller wrote. "He has entered the conversation for the league's best overall cornerback and is here to stay."
Wilson came in behind Lions DE Aidan Hutchinson and Wilson's college teammate WR Chris Olave, who was drafted by the Saints one pick after Wilson.
"Wilson has quickly shown that he can be a No. 1 option in an NFL offense," Reid wrote. "He managed to produce without any type of consistency under center, which is the sign of a big-time talent at the position. Wilson is a sudden and creative route runner who also has the flexibility to contort his body to make difficult catches. His 56 first-down catches led all rookies."
Wilson's 1,103 receiving yards led all rookies as did his 83 receptions. The Ohio State product, selected No. 10 overall, became the first receiver in Jets franchise history to eclipse the 1,000-yard mark as a rookie. He broke Keyshawn Johnson's franchise rookie reception record (63) set in 1996.
"Wilson can be a star in this league if the Jets find an answer at the quarterback position," Bowen wrote. "He is an easy and sudden mover at every level of the route tree. And Wilson has the dynamic ability to create game-changing plays."