For Jets quarterbacks Mark Sanchez and Tim Tebow, the preseason is complete.
Neither will play Thursday night in the Jets' preseason finale at Philadelphia, which means the squad will rely on Greg McElroy or Matt Simms to end their summer touchdown nightmare.
Although Sanchez and Tebow didn't get the team six points all at once, they did provide some promising glimpses that should keep Jets fans optimistic heading into the regular-season opener Sept. 9 against Buffalo.
"We've seen individual guys really elevate their game," Sanchez said. "It hasn't all come together yet. That's kind of the exciting part. I think guys are anxious for that.
"We're anticipating a great start against Buffalo and we're going to need our very best. We're going to have to take care of the football, control the time of possession and really play well."
Sanchez, now in his fourth year, remains confident in himself despite the offensive preseason struggles. He is staying open-minded and said the team has seen positive improvements on film.
Sunday night against Carolina was his most impressive performance of the three tuneup games as he finished 11-of-18 for 123 yards with one interception (although not his fault). It was easy to notice that he was more accurate and relaxed. But possibly the biggest difference compared to his previous two outings was that he had more protection.
"I was just proud of our offensive line," he said following the game. "I was proud of the way Austin Howard competed. That's not an easy spot to jump into. I saw things clear, went through my progressions, checked the ball down, ran it when I had to, and for the most part made pretty good decisions. That's all you can do."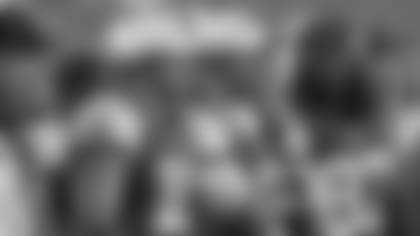 Sanchez finished the preseason 24-of-35 — 68.6 percent accuracy — for 203 yards with two interceptions.
For Tebow, there were both highs and lows during his first three games as the Jets' backup. In the opener against Cincinnati he rushed for 34 yards on four carries while also connecting on four of his eight passes for 27 yards. The following week against the defending Super Bowl champion Giants, No. 15 was sacked four times and only produced 5 yards on the ground. Sunday against the Panthers, he threw for 55 yards with one interception and rushed five times for 45 yards.
"I think there are obviously some plays that I'd want back and can do better," Tebow said. "There's obviously some plays I really feel like I've improved on a lot. I think sometimes I have probably too many throwaways, probably should have pulled the ball down and run."
The most notable play of Tebow's preseason occurred in the Carolina game when early in the fourth quarter he ran for 20 yards on third-and-16 to give the Jets a first down. He credited tailback Bilal Powell for making a block on a Panthers linebacker, which sprung him for the first down.
Tebow concluded the preseason 13-of-36 (36.1 percent) for 151 yards and two interceptions. He states that his rhythm and timing have been the two largest improvements in his game since his arrival with the organization.
While the two are fierce competitors on the field, they have grown closer off it in their short time on the Jets.
"He's a hard-working guy," Sanchez said, "just like a Nick Mangold and a Brandon Moore. He's always on time. He's just a hard worker, a great teammate. So he fits in with a lot of our other players. We all kind of push each other. It's been good."
Tebow said he and Sanchez have learned a variety of things from each other and added that he has enjoyed getting to know Sanchez's family.
"I think we've definitely learned different things about this offense, kind of learning it together," he said. "Stuff that we're doing from under center, the play-actions, he'll talk to me about stuff and I'll learn some of the different things and the style of drops we do from him because Coach [Matt] Cavanaugh has been with him four years now. He knows him pretty well, so sometimes Mark can translate for me."
As the duo will watch and support their teammates Thursday from the sidelines at Lincoln Financial Field, they also will converse, learn and benefit from one another' s presence. Just like they have up to now and will continue doing for as long as they remain in green and white.