Jets quarterback Mark Sanchez and offensive tackle D'Brickashaw Ferguson were among the guests tonight at a state dinner at which President Obama and the First Lady hosted Mexican President Felipe Calderon and his wife, Margarita Zavala, in the East Room of the White House.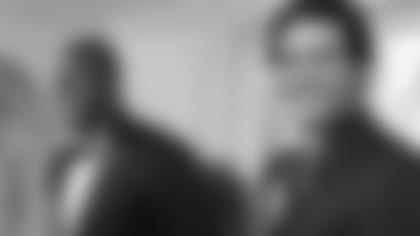 Sanchez and Ferguson were both invited to the event by the White House. They flew down to Washington from North Jersey on Wednesday afternoon and were expected back to take part in today's OTA practice at the Atlantic Health Jets Training Center.
"It was great to see the relationship between the two presidents," Sanchez said before boarding his plane to return to the New York area. "The performances by Beyoncé and Rodrigo y Gabriela were exciting and it was a wonderful experience to share with my teammate."
"Tonight truly was a fabulous event," Ferguson said. "I am speechless at everything I've seen tonight."
Mark and Brick were on the list of more than 200 who were expected to attend the event. Also at the dinner were Vice President Biden and his wife, Whoopi Goldberg, Eva Longoria-Parker, George Lopez and Gayle King.
The dinner, prepared by guest chef Rick Bayless and White House executive chef Cristeta Comerford, featured herb green ceviche of Hawaiian opah and Oregon Wagyu beef in Oaxacan black mole.
Following the dinner, Beyoncé and Rodrigo y Gabriela gave their performances under a tent on the White House South Lawn.
Details from Mark and Brick are sure to follow in the Atlantic Health Jets Training Center locker room following today's practice.