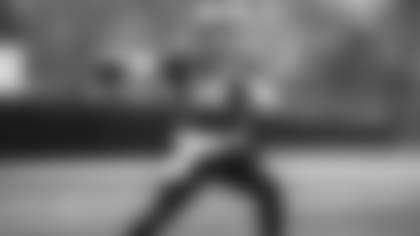 The Jets have struggled offensively their past two games, totaling 14 points and 367 yards while turning the ball over eight times and allowing nine sacks. With a game looming against the Dolphins Sunday in South Florida, quarterback Sam Darnold believes a possible reversal of fortune starts with himself pre-snap.
"Yeah, need to be a lot better there," said Darnold, who will play with a splint on his left thumb after spraining it against the Jaguars. "Again, just communicating with the guys, getting set and we need to start rolling. We need to start being faster at the line of scrimmage and the tempo needs to be a lot better for sure."
The second-year signal-caller will line up for his 18th NFL start at Hard Rock Stadium and this week he stressed the need for more internal pressure at practice. He said the team has responded favorably during workouts and the hope is that it will carry over to gameday.
"I think for us, mentally, it's got to feel the same," Darnold said. "If it doesn't, if there's not a lot of stress in practice, then the last couple games, those kinds of games are going to continue if we don't put stress on ourselves in practice. So, we've got to make it as game-like as we can and I think we've been doing a better job of that this week."
The 2018 No. 3 overall pick has a sense of how Miami head coach Brian Flores will scheme up his 30th ranked defense (414 Yds/G). Flores comes from Patriots descent, but Darnold said teams have been playing the Green & White differently than what's on tape.
"I think defensive coordinators know how good Coach Gase is with just getting guys open, so they try to just play us a little bit differently with that kind of stuff," he said. "For me, I think it's just about getting the ball out and reacting to that kind of stuff. I think that goes along with playing fast and just having fun out there."
One person Flores will probably try and take away from Darnold and Gase is RB Le'Veon Bell, whose 23-yard rushing performance against the Jaguars was his lowest output since 2014. Gase said he wants to give Bell more touches, but the Jets need better push up front for their star back and improved protection for their franchise passer. When asked how important it is to get Bell involved more in the offense, Darnold's answer was simple: "Very important."
"Le'Veon is a great player," he said. "We need to get him involved, but we also need to do it naturally. In my progression, if he's late in the progression and I get to him, so be it. But if I don't and I find an open guy, he's not going to be the type of guy to complain about it. He just wants to win. Everyone on this team wants to win."
See Top Photos from the Practice Field Leading Up to the Trip to Miami