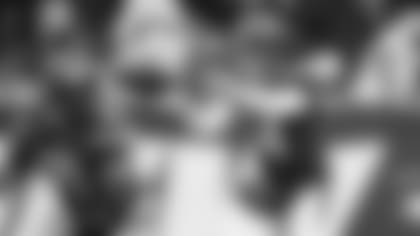 Sam Darnold is preparing to step on the field in year three with the goal of becoming more of an accurate quarterback.
"My goal personally is just to be as consistent as possible," said the 22-year-old. "[Last year] I think I missed some throws I don't usually miss, and I think that just comes with repetition and making sure that I don't miss those throws in-game. I think it's just about getting those reps over and over again and putting myself in uncomfortable positions in the pocket and continuing to work on throws on the run, running and setting up throwing."
He added: "For me, it's just about being as consistent as possible and throwing the same routes over and over again until my misses become very, very small."
Last year, Darnold recorded 19 TDs and 13 INTs for 3,024 yards with a 61.9 completion percentage and a passer rating of 84.3, all up from his numbers in 2018 of 17 TDs, 15 INTs for 2,865 yards with a 57.7 completion percentage and a 77.6 rating. Similar to his rookie season, Darnold missed three contests, and he saw a spike in his numbers following his return in the second half of the season, proving that consistency is possible. Now, as the Southern California product turns the page in this uncharacteristic offseason, his focus will be to develop solidarity with the seven new faces added to the offensive line.
"For us, we just have to communicate as much as possible," Darnold said about his new protectors, "whether that's how we call things at the line of scrimmage or how we are going to adjust to different looks on the defense — but also how we communicate outside of the field on topics outside of football. That can be difficult because we're not going to be all together hanging out all day. It will be interesting to see how this whole thing shakes out and how everyone handles it, but we are going to be very well-equipped and our coaches are going to do everything they can to make sure it turns out great."
Along with the additions of Alex Lewis (re-signed), Josh Andrews, Connor McGovern, Greg Van Roten and George Fant — who were all added to the Green & White in free agency — Jets general manager Joe Douglas continued to build the offensive line by drafting Louisville's Mekhi Becton and Charlotte's Cameron Clark.
While the men set to line up in front of Darnold have changed, Douglas has also altered the landscape around him with the signing of WR Breshad Perriman and the drafting of both WR Denzel Mims and RB La'Mical Perine. Darnold will still have one of the NFL's top backs with him in the backfield in Le'Veon Bell, the offense has great depth at the TE position and is expected to be buoyed by the return of a healthy Chris Herndon and rookie James Morgan, a fourth-round pick from FIU, promises to help Darnold behind the scenes. Although the new additions will assist Darnold in finding more consistency in his game, the plan for an all-virtual offseason program could present a challenge to the development of chemistry.
"For us it's really just getting back to football and diving into the playbook," Darnold said. "Starting from scratch, we need to make sure what the exact details and routes are and protections and how we're sliding. Again, it's going to be different than actually being able to go out there on the field and do it and go through walkthroughs, but I love our coaches and I think they're very well equipped with being able to teach very well. I'm really excited for this opportunity to learn and I know a lot of guys on this squad are."