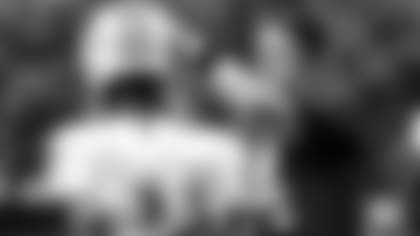 If he is given more work, Sam Darnold is ready for it. On the first day of Jets-Redskins workouts in Richmond, Virginia, Darnold was the man taking the majority of reps with the Jets starting offense.
"No matter who I am work with, reps are always key," he said. "Working with the first team just gets me more comfortable with those guys and I think they get more comfortable with me and the way I like to play. All that kind of stuff plays into it."
While Darnold was solid Friday in his first professional outing, the rookie, who completed 13 of 18 passes against the Falcons for 96 yards with one touchdown, didn't think his speed was up to snuff.
"I was a little slow and that was on me, just being able to get a play and call it," he said. "We didn't have one delay of game penalty, but it was just a matter of me going to the line of scrimmage with five or 10 seconds isn't idea. I just want to get better in that area."
Despite displaying excellent vision in his NFL debut, Darnold says he will be able to read and diagnose better if he has his teammates up to the line quicker.
"One thing we always talk about is getting in and out of the huddle, being able to call the play," he said. "Be able to have a clean huddle, call the play and get out there with hopefully 15 or 20 seconds left. That's the key every time and if I can do that, I'll be able to see the defense a lot clearer."
Still in the infancy stages of his NFL career, Darnold is hearing offensive coordinator Jeremy Bates' play calls in his helmet, relaying the information to his teammates in the huddle, and then getting to the line and reading what he sees pre-snap.
"I've definitely gotten a lot better at it, but I'm not where I want to be. But I thought I did a better job of it today," he said. "That's what I'm looking for is just steady improvement, continuing to improve on that every single day, every practice"
Calling every rep important, Darnold wants to take advantage of each opportunity regardless if it's with the first team or the third team.
"Every time I get in there, I like to get better. That's just who I am as a player," he said. "I just try to get in there and get better every single day no matter who I'm playing with because the plays are the same."
Sam Darnold Bobblehead Night
Blessed with a fine head of hair, Darnold said San Clemente HS did him right with its bobblehead depiction of him. San Clemente will sell Darnold bobbleheads at their home opener next Friday vs. Oceanside.
"The hair on the bobble head actually looks a little bit better than mine in real life, so I give them props for that," he said.